Barbara Hornung

Barbara Hornung
New Music from the Pandemic
Session: A performance of captivating music composed in 2021. Featured are three excellent Australian composers, Dr Roger Alsop, Melvyn Cann and Dr Johanna Selleck. Performers: Barbara Hornung – Viola, Dr Johanna Selleck- Flute, Dr Roger Alsop – Electronic Spatialisation
Program: EPISODIC REVERIE, MELANCHOLIC for Flute and Viola – Dr Johanna Selleck (Commissioned by Barbara Hornung)
Johanna explains, 'This piece may be thought of as a conversation between flute and viola. At times, it follows a 'question and answer' line of conversation; at other times, the voices come together in agreement of surprise and more animated interactions ensue.'
CATCH 22 for Solo Viola – Dr Johanna Selleck
Catch 22 was composed in April 2021 for the 2021 ANZV Viola Composition Competition. It was awarded First Place in the open 'Solo Viola' category. Johanna: 'The piece uses dynamics as the main compositional element, with all other parameters secondary to this. This has been designed to make the most of the natural resonances of the viola and the unique timbral qualities of individual strings and parts of the viola's range.'
BRANCHES for Viola Solo – Melvyn Cann
Branches is an intricate and deeply expressive work which is inspired by nature. In Melvyn's words: 'The link to organic forms in nature, as distinct from the rectilinear forms we create for our artificial environments, informs all of my work. The piece is by no means metronomic: the branches can sway in the wind, whilst retaining their form.'
ROSELLA for Viola and Electronics – Dr Roger Alsop
Rosella is a fascinating, surprising, unique and beautiful aural experience. The viola mimics birdsong which is freely interpreted from notation inspired by a recording of rosellas. It is layered by an electronic process called spatialisation.
Download Notes (Program)
Download Notes (Catch 22)
Download Notes (Episodic Reverie)
Download Notes (Branches)
Download Notes (Rosella)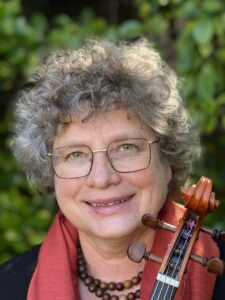 Barbara Hornung was first taught by her father Richard Hornung, she also received tuition in Adelaide from John Gould, Glynne Adams, Juris Ezergailis, Keith Crellin and Hartmut Lindemann. In 1984 Barbara graduated from the Adelaide University with a Bachelor of Music Honours degree. After touring Europe in the Australian Youth Orchestra, Barbara studied at the Royal Conservatory of The Hague in the Netherlands with Rainer Moog and Vladimir Mendelssohn. Among the many highlights of her career are performances of works by Dr Johanna Selleck at the Melbourne Recital Centre and David Osborne at City Recital Hall, Angel Place in Sydney.
Barbara currently runs a private teaching practice for upper strings, beginner to advanced students. She has had twenty years of experience teaching in schools which include Avila College, 'Grimwade' Melbourne Grammar School and Korowa Anglican Girls' School.
A rich musical life is enjoyed by Barbara in her performing as a freelance viola player. Barbara is a keen recitalist and chamber musician. Alongside her strong interest in new music, Barbara is a dedicated visual artist.