AUSTA SA

Teacher and Student Learning Opportunity
Monday 4th September 6:30pm and Tuesday 5th September 7pm
Adelaide University Elder Conservatorium of Music, Elder Hall
MARKIYAN MEINYCHENKO, Ukranian-Australian violinist, has performed and studied around the world and will share experiences of time spent observing Professor Antje Weithaas, Berlin and the string teaching principles and knowledge gained.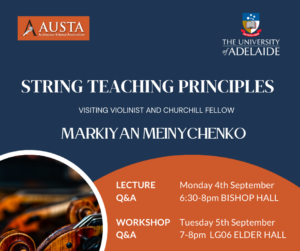 NEXT BEGINNER ADULT STRING WORKSHOP
Coming in Term 4 2023
Registrations will open in October 2023
NEXT STUDENT STRING ENSEMBLE WORKSHOP
Planned for Term 1 2024
Registrations will open in February 2024
Thank you for supporting our student workshops in 2023 and a huge thank you to our amazing AUSTA team and conductors who made it all happen.
If you are a string player or teacher and interested in running a workshop or performance with AUSTA, please email president Bethany Nottage bnottage@westminster.sa.edu.au.
Notices
There are currently no notices on display.
Events
There are currently no events on display.
Past Events