AUSTA WA
Whether you're new to Perth, a beginning string teacher, or you have been around the music scene for a while; we welcome you to AUSTA WA.
Our committee has a diversity of members, from professional musicians to teachers, and we are striving to provide opportunities for all of our members to improve their skills and keep their practices alive. If you'd like to join our great team and have a say in the activities that we provide, please contact us at any time.  We would love to hear from you.
In recent years, AUSTA WA has hosted artists such as Sophie Till, Aaron Minsky, Vivien Mackie, Cathleen Jeffcoat and Stephen Chin to great acclaim. We are committed to providing the Western Australian string community with quality professional development and workshop opportunities. In addition, we are working on expanding our reach to the regional and remote areas of our state.
We are very excited to be hosting the AUSTA National Conference here in Perth, 7-10 July 2018.
For current recommended private lesson rates in Western Australia, please refer to WA Music Teachers' Association. Rates for 2018 vary from $62 – $82 per hour, dependent on the experience of the teacher.
Please take a moment to browse the activities that we are currently offering, and join us if you find something that interests you.  If you don't find anything, please let us know what you would like to see! We look forward to meeting you at one of our events this year.
Warm regards,
Nicole Strohfeldt
President, AUSTA WA
Notices
Emily Leung with FCO
Violinist Emily Leung returns from her studies in America to perform with the Fremantle Chamber Orchestra. She will be performing Beethoven's Two Romances and Mozart's rarely-performed first violin concerto, in an all-Classical concert directed from the violin by Paul Wright. The rest of this exciting programme includes Boccherini's Symphony 'La Casa del Diavolo' and Haydn's Symphony no.6, 'Le Matin'. Paul Wright will further showcase the Classical world of violin writing with the extensive violin solos in this sixth symphony of Haydn.
Saturday 9 June, 4pm, Perth Modern School (90 Roberts Road, Subiaco)
Sunday 10 June, 3pm, Fremantle Town Hall
Adults $40, concession $35, under 18 years $20. Tickets available at the door, or via Ticketek: www.ticketek.com.au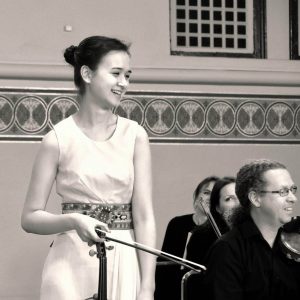 ---
Western Australian Youth Strings (WAYS)
Applications and auditions are still open for 2018!
WAYS has two vibrant and thriving orchestras for children between Years 3-8. WAYS and Junior WAYS provide an opportunity for children to start their orchestra-playing journey in a friendly, inspiring environment while achieving great musical and personal heights.
Instruments: Violin – Viola – Cello – Double Bass
Musical Directors: Mr Ashley Arbuckle OAM – WAYS;
Ms Sarah Clare – JWAYS (Junior/Emerging)
For the 2018 Prospectus and application forms, or to book a visit during rehearsal to see what we're about, or just more information, please contact the Secretary at secretary@wayouthstrings.org.au, or visit our Facebook page: WAYS – Western Australian Youth Strings Orchestra
---
Music Improvisation and Composition for Teens
TIME: 4 to 5 pm
DAY: Thursdays from the 8 March to 12 April
COST: $150 pp ($120 for AUSTA/WAM/WAMTA MEMBERS) for 6 weeks
VENUE: Theo's Music
*No previous improvisation experience necessary!
*Open to ALL instruments including voice, percussion, piano, strings, brass, woodwind etc
This is an opportunity for teenagers to get intensive (and fun!) experience in making their own music through improvisation and composition.
Open to all players 12+ years of an intermediate standard and above, who want to start music improvisation and composition or accelerate their progress further.
Learn how to improvise and compose your own music solo or in bands and ensembles. Includes classical music, rock, pop, blues and folk/world music sounds and styles. Start your own band, record your own music, or just jam with your friends. These skills enable you to express yourself, your ideas and your passion through your own music. They are the ticket to being able to join in and play with other students and musicians of any musical background or style without needing music stands or pieces of paper for the notes. No need to learn another instrument to join in, the instrument you can already play is perfect!
Small group class. Bookings essential. You will need to bring your instrument to class.
Bookings: https://www.eventbrite.com.au/e/music-improvisation-and-composition-for-teens-tickets-43191337453?aff=efbevent
For more info or to pay by credit card or direct deposit call Tanya on 0413 265 831.
---
Professional development classes on violin technique for music teachers and players
TIME: 4 to 5 pm
DAY: Wednesdays from the 7 March to 11 April
COST: $150 pp ($120 for AUSTA/WAMTA MEMBERS) for 6 weeks
VENUE: Theo's Music
These classes are based on the technique developed by European violin pedagogue Igor Ozim.
This is an opportunity to further your ongoing professional technical and musical development focusing on both right hand and left hand technique.
Includes exactly how to prepare and execute all bow strokes (detache, martele, legato, colle, spiccato, up-bow & down-bow staccato, ricochet, flying staccato), technical etudes/studies and concert repertoire, and raising your tone, phrasing, articulation, intensity, and projection to a soloistic level, correct preparation and practice for reliable left hand technique, intonation, shifting, vibrato, double-stops, harmonics and stop-harmonics.
Also foundations of teaching including preparatory exercise systems, technical/musical development sequence, and analytic insights for technique problem solving.
Please bring your instruments and note pads, these are practical participation classes (but are also open to observers).
Please book in advance as there are LIMITED PLACES!
You may like to attend a FREE meditation class with Rupert 15 minutes prior to this class.
Bookings: https://www.eventbrite.com.au/e/professional-development-classes-for-violin-teachers-and-players-tickets-43191508966?aff=efbeventtix
For more info or to pay by credit card or direct deposit contact Tanya on 0413 265 831.
---
Cello request
Filming is underway in Perth on Don't Stop the Music, a new three-part documentary series for the ABC produced by Artemis Media, highlighting the transformative effects of teaching music in primary schools.
We want to help get music back into classrooms and instruments into the hands of kids who need them most.  Our  goal – to show that music has the power to turn schools around, improving brain-power, and hearts and minds. We are currently filming at a primary  school in Armadale and the children have totally embraced the opportunity given to them. We have been fortunate to have violins donated to the school however we desperately need cellos ½ and ¾  size. Would anyone have any instruments they could donate to the school please?
You can email Karen@artemisfilms.com or call 0407 992 537.
---
WANTED! Young fiddlers! (and cellists too)
Perth Scottish Fiddlers has just started up for 2018 and we would love to have some more young players! This is a great opportunity for younger players to have some fun playing lively and engaging music. Scottish and folk music has inspired many great composers throughout history and is a lively and continuing tradition with many excellent young players and composers.
We meet once a month on the last Sunday of the month to learn new tunes and play existing repertoire and there are 2 sessions of different levels. As new tunes are taught by ear this is fantastic aural and memory training (blitz those aural tests in exams!) but above all the music is fun and a great alternative for students who need a change or addition to more formal playing. Scottish music also uses many different keys, modes and bowing techniques.
More information can be found on our website: www.perthscottishfiddlers.com.au or email Margaret on mschlink@gmail.com
---
New book violin for adult learners
Compiled and arranged by Margaret Schlink here at last is an adult-friendly beginner book!
Suitable for the first year of learning it includes a variety of adult-friendly pieces of different genres, clearly laid out pages with logical technical and musical development, and a duet book. Sample pages may be viewed on www.facebook.com/adultviolinclasses, as well as information about classes.
Margaret Schlink is a violin/viola teacher with a special interest in teaching adults. She teaches individual lessons (to all ages), holds group classes for adults and is the founder/director of Perth Scottish Fiddlers.
The book costs $35 plus P&P and is available by emailing mschlink@gmail.com
---
New Teachers Mentor Program
Welcome to a new, exciting year. AUSTA WA would like to do more to help string teachers this year by introducing a mentor program for new teachers. We know that being a beginning teacher can feel very isolating, and it is hard to know where to get the answers you need. However, we have a wealth of experience and wisdom amongst our AUSTA members. If you are an experienced teacher willing to share your knowledge, you could help make a young teacher's journey just that bit easier.
The New Teacher Mentor Program will involve pairing up experienced string teachers with less experienced teachers to help and guide them throughout the year. We will endeavour to pair you up according to your particular area of interest, whether it be peripatetic teaching in schools, classroom music, private studio teaching etc.
We will have an initial meet-and-greet with all participants on Sunday 12th March, where mentors and mentees can get to know each other and exchange details. From then on, all contact will be up to you. You may decide to arrange regular meeting times throughout the year, or simply keep in contact for whenever advice is needed.
You may be a student, new graduate, or have been teaching for 10 or 50 years. If you feel you have something still to learn or experience to share, I encourage you to take part in this exciting new program.
If you are interested in taking part in the Mentor Program, either as a mentor or mentee, please email verity.viola@gmail.com by Friday 3rd March with the following details:
1)         Name:
2)         Contact number:
3)         Email:
4)         Instrument(s) taught:
5)         Would you prefer to be a mentee or mentor? (Or both!)
a)         If mentee, what areas would you like advice in?
b)         If mentor, what are your areas of expertise?
Kind regards,
Verity Brockman
AUSTA WA Committee
New Teachers Mentor Program Coordinator
---