AUSTA WA
Whether you're new to Perth, a beginning string teacher, or you have been around the music scene for a while; we welcome you to AUSTA WA.
Our committee has a diversity of members, from professional musicians to teachers, and we are striving to provide opportunities for all of our members to improve their skills and keep their practices alive. If you'd like to join our great team and have a say in the activities that we provide, please contact us at any time.  We would love to hear from you.
In recent years, AUSTA WA has hosted artists such as Sophie Till, Aaron Minsky, Vivien Mackie, Cathleen Jeffcoat and Stephen Chin to great acclaim. We are committed to providing the Western Australian string community with quality professional development and workshop opportunities. In addition, we are working on expanding our reach to the regional and remote areas of our state.
Please take a moment to browse the activities that we are currently offering, and join us if you find something that interests you.  If you don't find anything, please let us know what you would like to see! We look forward to meeting you at one of our events this year.
Warm regards,
Nicole Strohfeldt
President, AUSTA WA
Notices
Hungarian Folk Music
The internationally acclaimed Hungarian folk music ensemble Tükrös will be touring Perth from 20 September until 8 October 2017.
They will be performing and presenting camps for all levels on Violin, Viola-Kontra (Brácsa), Double Bass and Dulcimer (Cimbalom). This is a great chance to learn a new instrument or adapt your violin or bass skills to a new style. You can also learn the traditional dances.
Camp_Info_and_Registration_Form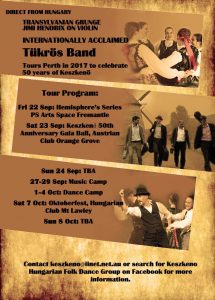 ---
WAAPA Courses
'Future Stars' is a ten-week course aimed at Year 10, 11 and 12 students.  Led by Genevieve Wilkins (Royal College of Music and Guildhall School of Music), students work with WAAPA's classical music staff to turbocharge their performance skills and develop all aspects of their musicianship.   The classes take place at WAAPA on Thursday afternoons from 4pm – 6pm, from 20 July til 21 September.
'Ace Your WACE' is a free one-day masterclass opportunity, designed for students who want to boost their confidence, polish their performance skills and maximise their WACE performance exam result.  Students play to WAAPA's performance staff, and receive encouragement, advice, strategies, skills and tips for releasing their inner virtuoso, building their confidence, and optimising their exam result. Strings Saturday 26th August. Other instruments Sunday 6th August.
WAAPA's auditions for next year's classical music courses take place on 16, 17 and 18 September; with a late round of auditions in early December.  Our flagship course is the Bachelor of Music degree, and WAAPA also offers a one-year Diploma of Music, as well as postgraduate courses.
WAAPA – 'Future Stars' and 'Ace Your WACE' courses flyer
WAAPA – classical music audition poster
---
WAYS mid-year auditions
The Western Australian Youth Strings Orchestra (WAYS) will be holding mid-year auditions for young string players to join WAYS or JWAYS.
---
AUSTA WA Albany Festival of Strings 2017
A series of string events for the Albany community, including:
UWA Public Lecture Series by Michael Goldschlager – "The cello Louis XVI heard before he lost his head"
Cello Show with Michael Goldschlager
Albany String Festival
Cello Extravaganza with Michael Goldschlager
Thursday 10 August 2017 to Sunday 13 August 2017
Various Venues: Thurs – UWA Albany, Fri – Uniting Church (Duke St), Sat/Sun – Albany Senior High School, Albany, WA
Download the Festival of Strings Flyer
Download the Festival of Strings Flyer
---
ELECTRIC BAND CAMP FOR TEENS
Are your students/kids wanting to play electric violin or cello with their friends in the July school holidays?
Learn and play electric violin/viola/cello, amps & FX!
for violin, viola, and cello
10am-3pm
10-14 July 2017
Theo's Music 4 Southport St West Leederville 6007 WA
http://www.rupertguenther.com/upcoming_music_courses__workshops/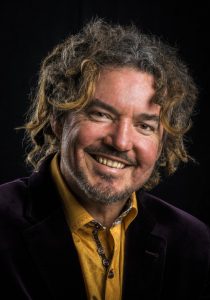 ---
WACHAMP
The WA YOUNG ARTISTS CHAMBER MUSIC PROGRAM (Principal Partner – WA Music Company) is now in its seventh year, and the 2017 Program is sure to be packed with wonderful experiences for your students. The four day Program will include workshops, tutorials, rehearsals, performances and mentoring from some of Australia's leading chamber musicians.
Participants usually apply for WAYACHAMP on the recommendation of their instrumental teacher You may wish to encourage your students by forwarding this email. Alternatively Sophie Curtis is happy to mail hardcopies of the flyer to your postal address. Email her at wayachamp@gmail.com
Key information
Date: Monday 25 September – Thursday 28 September 2017
Venue: School of Music, University of Western Australia
Open to: Students aged 12 – 17 of the violin, viola, cello (Grade 4 and above) or piano (Grade 7 and above)
Tutors: Sartory String Quartet (Paul Wright, Pascale Whiting, Kathy Potter, Sophie Curtis), Shaun Lee-Chen, Tzvi Friedl, Jon Tooby, Raymond Yong, Jessica Gethin with special guests Kaboom Percussion
Fee for individual applicants: $250
Discounted fee for pre-formed groups: $212
2017 WA Music Company Scholarship
As in previous years, each applicant/pre-formed group is required to send in a recording for ensemble placement. Based on these recordings, the pre-formed group deemed the most outstanding will receive a scholarship thanks to WAYACHAMP's Principal Partner, WA Music Company. The scholarship will entitle the group to have their application fees reimbursed.
For more information or to download a flyer, please head to www.wayachamp.com
---
AUSTA WA String Festival applications are open!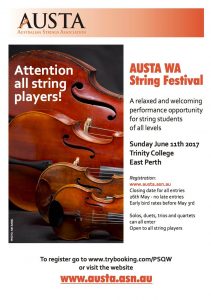 A relaxed, non-competitive performance opportunity.
Sunday 11 June at Trinity College, East Perth
To enter the festival, please click here.
---
Call for Performers
Showcasing Emerging Musicians at all levels
Are you looking for a non-competitive performance opportunity with an appreciative audience? If so, this is a perfect opportunity for you. Once again this year the Juniors and Seniors concerts will be combined, in one performance on Sunday 11th June at 2.30 pm in the Eileen Joyce Studio at School of Music, UWA.
Soloists, duos, trios, small ensembles welcome – any instrument/s and voice.
Priority will be given to RSMC member's students and/or student members of the Club. The RSMC reserves the right to close the nomination date earlier if there are too many responses. Spots are limited due to time constraints.
If you are interested in performing, please send an expression of interest to rsmc@iinet.net.au, with the following information no later than Sunday 9th May:
your name, or name of your group and names of performers within the group

instrument on which you will be perform

the piece you are going to perform

actual playing time in minutes

name of accompanist if applicable
It is important that you discuss this with your teacher prior to applying.
There is no charge to perform, but it is a requirement to join the Royal Schools Music Club as a student member. If an ensemble, then at least one person must be a member. Cost is $15 for the year. http://www.rsmc.info/
---
New book violin for adult learners
Compiled and arranged by Margaret Schlink here at last is an adult-friendly beginner book!
Suitable for the first year of learning it includes a variety of adult-friendly pieces of different genres, clearly laid out pages with logical technical and musical development, and a duet book. Sample pages may be viewed on www.facebook.com/adultviolinclasses, as well as information about classes.
Margaret Schlink is a violin/viola teacher with a special interest in teaching adults. She teaches individual lessons (to all ages), holds group classes for adults and is the founder/director of Perth Scottish Fiddlers.
The book costs $35 plus P&P and is available by emailing mschlink@gmail.com
---
New Teachers Mentor Program
Welcome to a new, exciting year. AUSTA WA would like to do more to help string teachers this year by introducing a mentor program for new teachers. We know that being a beginning teacher can feel very isolating, and it is hard to know where to get the answers you need. However, we have a wealth of experience and wisdom amongst our AUSTA members. If you are an experienced teacher willing to share your knowledge, you could help make a young teacher's journey just that bit easier.
The New Teacher Mentor Program will involve pairing up experienced string teachers with less experienced teachers to help and guide them throughout the year. We will endeavour to pair you up according to your particular area of interest, whether it be peripatetic teaching in schools, classroom music, private studio teaching etc.
We will have an initial meet-and-greet with all participants on Sunday 12th March, where mentors and mentees can get to know each other and exchange details. From then on, all contact will be up to you. You may decide to arrange regular meeting times throughout the year, or simply keep in contact for whenever advice is needed.
You may be a student, new graduate, or have been teaching for 10 or 50 years. If you feel you have something still to learn or experience to share, I encourage you to take part in this exciting new program.
If you are interested in taking part in the Mentor Program, either as a mentor or mentee, please email verity.viola@gmail.com by Friday 3rd March with the following details:
1)         Name:
2)         Contact number:
3)         Email:
4)         Instrument(s) taught:
5)         Would you prefer to be a mentee or mentor? (Or both!)
a)         If mentee, what areas would you like advice in?
b)         If mentor, what are your areas of expertise?
Kind regards,
Verity Brockman
AUSTA WA Committee
New Teachers Mentor Program Coordinator
---
Histoire du Tango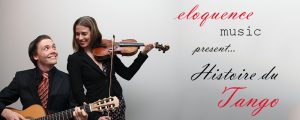 Sara Duhig will be performing as a part of Eloquence Music presenting 'Histoire du Tango' – a thrilling and innovative look at tango music for guitar and violin featuring works by Astor Piazzolla and guitarist Mathew Laurenson. They will be joined by award winning Tango dancers, Amanda Nullmeyers and John Broertjes.
This is for the fringe festival and will be at the Dress Circle Bar at His Majesty's Theatre on the 9th, 10th and 11th February 2017 at 9.15pm.
https://www.fringeworld.com.au/whats_on/event/histoire_du_tango/29dda5f3-8c56-40a4-a4bd-95af5bd093eb/
---
Fremantle Chamber Orchestra with cellist Louise McKay
Dvorak: Notturno
Haydn: Cello Concerto No 2
Beethoven: Symphony No 4
Saturday 19 November @ 2pm at Redemptorist Monastery: 190 Vincent St, North Perth (easy and free parking)
Sunday 20 November @ 3pm Fremantle Town Hall
Tickets are available at the door, or via TICKETEK – transaction fees apply.
Adults: $39, Concession $33, under 18 years: $20.
---