Stringendo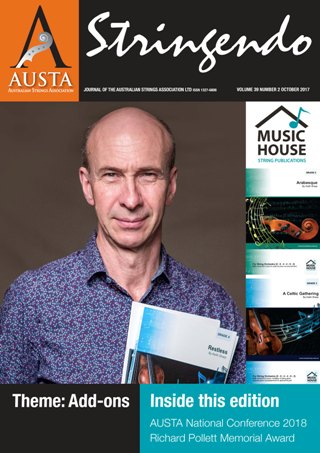 October 2017
Add Ons
AUSTA 2018 National Conference
Richard Pollet Memorial Award
And lots more!
The theme for the next issue April 2018 is "Regional Teaching, Playing, and Making"
Contribution deadline: 5 January, 2018
Advertising Deadline: 14 February, 2018
Contributors and Advertisers, please enter these dates in your Forward Planner
AUSTA publishes two issues of Stringendo each year. Efforts are made to reflect the wide range of interests of our members and to bring us into contact with our international colleagues. We believe that we help shrink the distance between Australians living in remote areas. A portion of membership subscriptions is allocated to funding Stringendo.
Each issue contains news, reviews, letters, comments and several substantial articles on topics of interest to players, teachers and makers of stringed instruments.
Advertising in Stringendo
If you are interested in promoting products to the Australian market through Stringendo, please contact the Advertising Manager Lucy McArthur using the below link.
Stringendo aims to –
    focus on topics of interest
    review workshops and new releases (books, music, CDs)
    facilitate the formation of links between members
    provide information about coming events
    stimulate debate
    encourage contributions from readers