Stringendo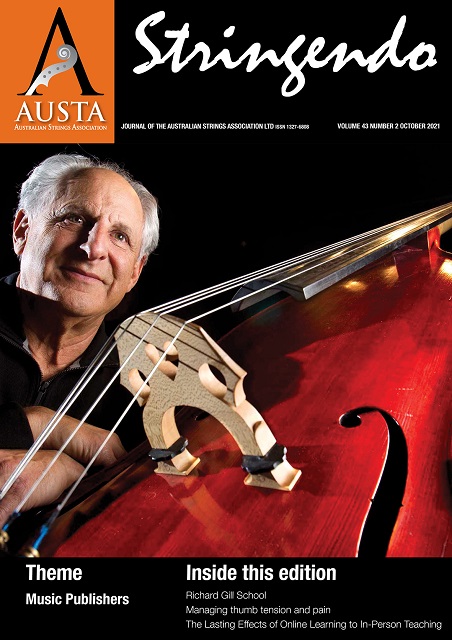 October 2021 Theme:  Music Publishers
Richard Gill School
Managing Thumb Tension and Pain
The Lasting Effects of Online Learning to In-Person Teaching
And lots more!
The theme of the next issue of Stringendo is Baroque. Early music publication, historically informed performance practice, how to make a Baroque instrument – if you are involved in any of  these areas, why not share your knowledge with our readers?

We will also be featuring the upcoming National Conference in Melbourne, 1–4 July, with its theme, 'Strings of Australia'.

Contribution deadline: 7 January 2022
AUSTA publishes two issues of Stringendo each year. Efforts are made to reflect the wide range of interests of our members and to bring us into contact with our international colleagues. We believe that we help shrink the distance between Australians living in remote areas. A portion of membership subscriptions is allocated to funding Stringendo.
Each issue contains news, reviews, letters, comments and several substantial articles on topics of interest to players, teachers and makers of stringed instruments.
Advertising in Stringendo
If you are interested in promoting products to the Australian market through Stringendo, please contact the Advertising Manager Adele Gibson using the below link.
2021 Advertising Rates      Advertiser Booking Form        2021 Advertising Policy
Reviews in Stringendo
If you have published/written a book, sheet music, DVD or CD, or have a concert you wish to have reviewed,  please contact the Reviews Editor Mary Nemet using the below link.
For information on other advertising opportunities, please click HERE.