Fintan Murphy

Fintan Murphy
 Developing Rhythm in Solo Playing and String Ensembles
AMEB Session 3: Approaching New Repertoire
Session (Developing Rhythm in Solo Playing and String Ensembles): Good rhythm depends on fluent, coordinated string playing, good musicianship and aural skills. Preparing AYO excerpts will highlight issues with rhythm; however rhythm needs to be an integral aspect of study from the very earliest stages.
This presentation will discuss:
Movement
Just like a resonant sound, strong rhythm comes from fluid movements throughout the whole body
Practicing rhythm away from the instrument
The variables of bow control, friction, speed, amount of bow
Examine common issues such as syncopation, articulation
Use of pizzicato, metronome, practice breaks
Ensemble rehearsals
Creative seating/standing arrangements to develop rhythmic awareness
Working with eyes closed
Bring your instruments for the practical demonstrations which will include etudes, scales systems, excerpts from solo and ensemble repertoire.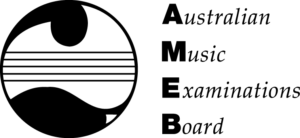 AMEB Session 3: Approaching New Repertoire
This session is sponsored by AMEB
Fintan Murphy, Level 3 syllabus consultant for AMEB's new Violin syllabus, Melbourne String Ensemble director, and string pedagogue, discusses how to successfully approach new repertoire. Providing insight on different learning methods, this workshop breaks down the sometimes daunting task of teaching new pieces to students. Teachers will be equipped with skills and confidence to engage students in actively learning exciting new repertoire.

After studying with Nathan Gutman in Melbourne, Fintan Murphy completed further study in Cologne with Helfried Fister, Christoph Poppen and the Amadeus quartet. He completed his Masters degree with Robert Gerle in Washington, D.C. A member of the Melbourne Symphony for many years, Fintan now performs as a recitalist and chamber musician.
Fintan's research focuses on string pedagogy and he has authored several DVDs which are now available on the websites violinbowtechnique.com and sevcikvariations.com. His DVDs Violin Bow Technique and Violin Left Hand have been favourably reviewed in journals such as The Strad, Stringendo and American String teacher. Fintan is the Chair of the AMEB Specialist Examining Panel for Strings and has published peer-reviewed articles in the British, Australian and International Journals of Music Education.
Fintan directs the Melbourne String Ensemble, a youth orchestra specializing in small ensemble repertoire and chamber music for strings. He has worked as a guest conductor and soloist with many youth orchestras in Europe. Fintan's students have gone on to further study at institutions such as the Curtis Institute in Philadelphia and the Hochschule für Musik in Cologne. Fintan currently teaches at Melbourne University and the Victorian College of the Arts Secondary School.
Download Notes (New Repertoire)
Download Musical Examples (New Repertoire)
Download Notes (Developing Rhythm)