2022 AUSTA National Conference – Melbourne

AUSTA 2022 NATIONAL CONFERENCE
Friday 1 July to Monday 4 July 2022 Melbourne
Scotch College, 1 Morrison St, Hawthorn VIC 3122
Proudly sponsored by the AMEB
AUSTA VIC is proud to host the National Conference held in Melbourne from Friday 1 July to Monday 4 July 2022.
The theme of the conference is 'Strings of Australia' and we are almost exclusively engaging national presenters, highlighting the abundant talent we have in Australia; teachers from all levels of education — early childhood to tertiary, performers, community players, conductors, advanced students, pedagogues, composers, luthiers and innovators. 
All attendees, presenters, workers, volunteers and delegates of the AUSTA National Conference are required to be compliant with vaccination mandates as they apply in Victoria. Evidence of vaccination status will be checked upon entry to the conference, unless a valid medical exemption applies.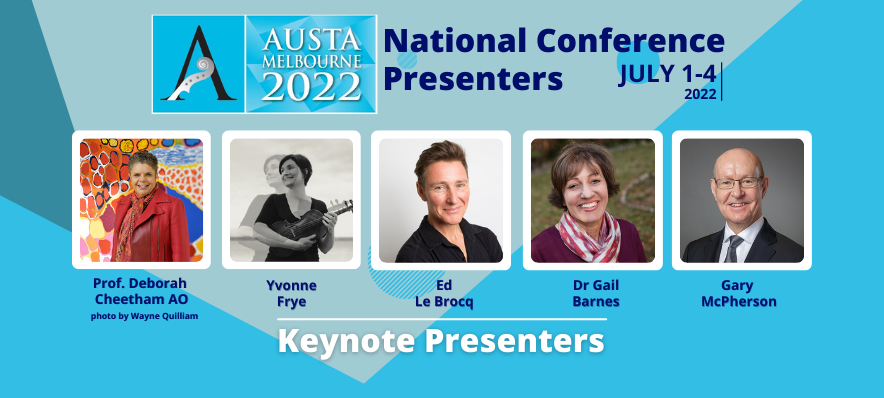 Presenters 
The conference will cover a wide range of topics including all things to do with pedagogy and education, performance, psychology, mind/body, masterclasses, diverse styles, composing, arranging, improvisation, technology, practicing, publishing, repertoire.
Visit our Presenters Page to read more about the 2022 AUSTA National Conference Presenters
Visit the Video Gallery to hear teaser videos about their sessions.
View our ANC Timetable to see the times and dates of each session.
View our Conference Schedule to see an overview of the conference, including pre and post conference events.
Once you have purchased your ticket, you will receive details to download the AUSTA Conference App:
Download the AUSTA Conference App
---

Purchase your Conference Ticket
Ticket for the conference can be purchased through TryBooking from February 1, 2022. Early Bird rates are available up to the end of Friday 27 May 2022; as of Saturday 28 May full rates apply. Daily tickets are also available.
AUSTA members enjoy event discounts, so now is a great time to join AUSTA! Concession tickets will also be available to holders of valid concession cards.
Ticket prices include morning tea, lunch, afternoon tea and drinks. Conference Dinner tickets (optional) can also be purchased through the same TryBooking link.
All delegates will be given access to the Conference Digital Program. If you would prefer a hard-copy program, be sure to order one when you book your tickets.
---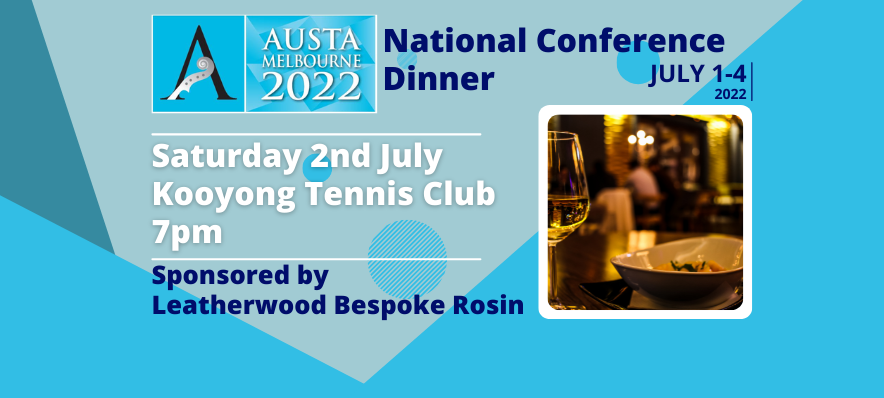 Conference Dinner
Have you booked your place at the National Conference Dinner? You don't need to attend the conference to attend the dinner! Dinner ticket costs includes drinks!
There will be games and quizzes to delight!
The Conference Dinner will take place on the evening of Saturday 2nd July 2022. The venue is the Kooyong Tennis Club (489 Glenferrie Road Hawthorn) which is located close by to the Conference Venue and hotel.
Seating information will be advised closer to the Conference.
Partners are most welcome to attend – please purchase additional tickets as required.
$110 includes drinks
Conference Dinner tickets can also be purchased through the same TryBooking link used for registration.
---
Accommodation
Our partner hotel is Quest hotel Our partner hotel is Quest Hawthorn located at 616 Glenferrie Road Hawthorn. The hotel is convenient to the Conference venue and local eateries. They are offering a 15% DISCOUNT on accomodation to AUSTA delegates. The discount code will be emailed to you after purchasing your Conference ticket. Book early as places are limited!
---
Getting to the conference
Melbourne has a good train and tram network and Scotch college can be accessed by either.
The closest train station is Kooyong Station which is on the Glen Waverley line.
The Route 16 tram (Melbourne University-Kew or Kew to Melbourne University) runs closest to the college.
Buses also run. You can find out more here.
---
Conference Schedule
The schedule  will be updated regularly as presenters and guests are confirmed. Click HERE for the latest version.
Please note that the Conference Schedule is subject to change at the discretion of the Conference Organising Committee.
---
Posters
Would you like to submit a poster for the conference? Posters are usually research-based, but we encourage the sharing of information presented in the poster format that will be relevant to the conference delegates. Here's some handy information about poster sessions and what is required (please be sure to follow the guidelines of size and formatting). Poster applications can be made through the Poster Application Form.
Applications for posters are still open.
---
Traders, Sponsors and Stall Holders
AUSTA is now taking applications for sponsors, traders and stall holders. Limited places are available!  Sponsorship information is also available. We are running two areas for traders; the main Traders Hall and a Marketplace.
The Traders Hall will be the main gathering place for delegates and will be accessible for the whole duration of the conference.
The Marketplace is available for small sole traders and hobby traders. The Marketplace will be located in an active thoroughfare of the venue and will only be open during main breaks (morning tea, lunch & afternoon tea). Established retail traders can book a stall to the Traders Hall.
ANC Program Advertising Rates & Booking Form
Please contact Helen Holt at austatraders@gmail.com if you have any questions.
---
Community Music Day – Sunday July 3
This stream will run concurrently to the regular conference programming . The emphasis will be on supporting these programs and expanding the skills of community musicians and community group leaders, conductors, committees, stakeholders and teaching artists.
---
Presenters 
The conference will cover a wide range of topics including all things to do with pedagogy and education, performance, psychology, mind/body, masterclasses, diverse styles, composing, arranging, improvisation, technology, practicing, publishing, repertoire…
Information regarding Presenters and Key Note speakers have been released. Keep up to date via our Facebook Page.
Applications for presenters closed on 30 November 2021.
All successful applicants have now been contacted.
---
Contact
Please email Karen Kyriakou at austaconference@gmail.com with any enquiries.