AUSTA Playing Opportunities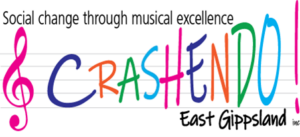 CRASHENDO! East Gippsland Youth(ful) Orchestra
LET'S AIM HIGH WHILST HAVING FUN !!
Join the camaraderie, develop your skills or share your skills by mentoring others.
Our Youth(ful) Orchestra runs during school terms and is always open to new members!
Contact info@crashendo-eg.org.au for more information and for an enrolment form/link.
Our Youth(ful) Orchestra is open to all ages of the community and anyone wishing to play in an orchestral-based ensemble. The orchestra rehearses weekly in Bairnsdale and is led by a professional Conductor and Youth Trainee Conductor alongside our volunteer musical mentors.
Youth(ful) Orchestra is an opportunity for all to sharpen their musical skills, engage with the community and provides a platform for mentorship. More experienced players are welcome to attend as a mentor to beginner players, providing mentorship experience in a supportive environment.
Let's strive together at rehearsals and share the excitement of performance !
Name: CRASHENDO! E Gippsland Youth(ful) Orchestra
Email: info@crashendo-eg.org.au
Phone: 0493 651 249
Website: https://www.crashendo-eg.org.au/our-programs/youth-ful-orchestra
State: VIC