Julie Hewison

Julie Hewison
AMEB Session One: Consolidating Fundamentals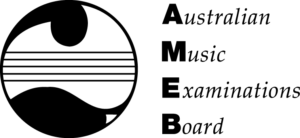 This session is sponsored by AMEB
Julie Hewison, Level 1 syllabus consultant for AMEB's new Violin syllabus, is presenting a workshop on how the material in the Level 1 books aims to help reinforce and further develop the fundamental skills needed for good violin playing. Drawing from the new syllabus, this workshop highlights the importance of establishing strong foundations from the beginning of students' learning.

Julie Hewison is well known in Victoria for her violin playing and teaching. Julie specialised in baroque violin playing whilst studying in London. She performed with such groups as The Academy of Ancient Music and The English Bach Festival Orchestra, touring to Spain, Greece, France and the Netherlands. Julie has been involved in many baroque performances throughout Australia and performed at many Music Festivals including the Melbourne International Festival.
Apart from performing, Julie has wide experience as a teacher, having worked in London with Shelia Nelson on the Tower Hamlets String Project. She has taught baroque violin and viola at Melbourne University and has also lectured in string pedagogy at both Melbourne and Monash Universities. Julie has conducted many Youth Orchestras, including Junior Melbourne String Ensemble, State Music Camp and MYM Summer School.
Julie was Head of Strings at Ivanhoe Girls' Grammar School for over thirty years and now teaches privately at her home studio. She is currently a committee member of the Australian String Teachers' Association and an examiner for the Australian Music Examinations Board. She has recently been involved as the Syllabus Consultant for Level 1 of the new AMEB Series 10 Violin syllabus.