EBM Insurance & Risk is Australian owned and operated and has a dedicated team that supports musicians, dealers, teachers and students with cover for their instruments.
AUSTA members can access an exclusive insurance offer from EBM Insurance & Risk.
This offer applies whether your instrument is at home or in transit and includes: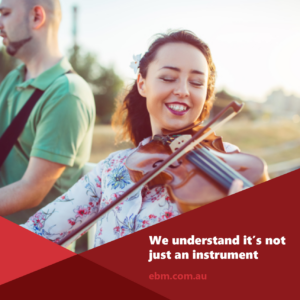 no claim discount (if no claims made during past 3 years)
free climatic conditions cover (if instrument is under $100,000)
reduced broker fee from $90.00 to $50.00 p/y
support in the event of a claim.
Read more about how to access this offer here (please note, you must be logged in to the website and a current member to access this offer.)