ONLINE: SEA Music Academy Conference
22jun(jun 22)10:30 AM23(jun 23)9:00 PMONLINE: SEA Music Academy Conference
Event Details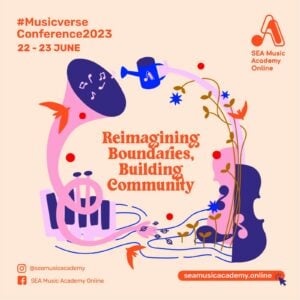 AUSTA Members are invited to attend the Southeast Asia Music Academy (SEA Music Academy) Conference from 22nd June 2023 – 23 June 2023
The journey of the past few years has been one of adaptation and repair – and perhaps now we can take this resilience and the new skills garnered in reimagining boundaries of our art, our craft, and our industry. The Musicverse Conference of 2023 carries us into territories both familiar and uncharted, from music education to leading the world's greatest musical team.
In approaching the Academy's third anniversary, we also remind ourselves of the importance of community, bringing to you a talk on the Alexander Technique approach to practicing and performing, and an international leader in music therapy, as well as in building spaces for new conversations.
Reimagining Boundaries, Building Community: as we blaze trails anew, we do so hand in hand.
AUSTA Members are eligible for a 20% discount to this online conference! Full details of how to access the discount is HERE
Full conference information online HERE
All times are Singapore times. (2 hours behind AEST, same time as WA).
more
Time

22 (Thursday) 10:30 AM - 23 (Friday) 9:00 PM