14may(may 14)12:00 AM23(may 23)12:00 AMENCORE: AUSTA WA: Traditional Asian melodies
Event Details

AUSTA ENCORE event – A recording of 90 minute online Zoom presentation on composition and Asian influences, with composer, Chenwei Wang, performer Gabriel Lee and musicologist, violist Andrew Filmer. An inspiring glimpse into Asian composition, opening up possibilities of improvisation for strings and using fabulous footage of performances from the Singapore International Violin Competition. Watch this fascinating presentation, receive interesting PDFs  Bookings open until May 12, viewing is May 14 – 23. Book here: https://www.trybooking.com/BZARK

Explore Asian music adapted for strings with violinist Gabriel Lee, composer Wang Chenwei and musicologist and violist Andrew Filmer. More details on AUSTA WA home page.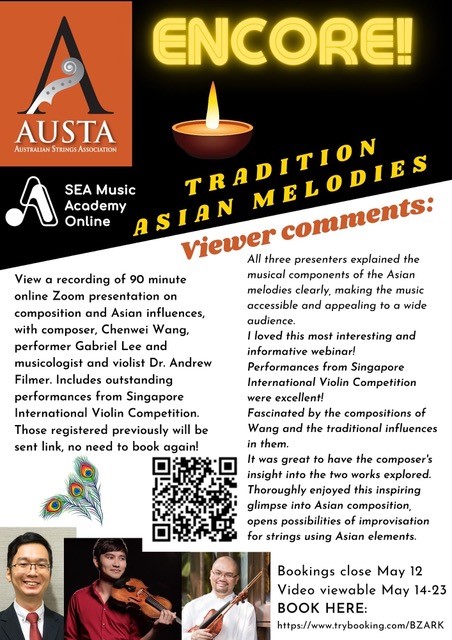 more
Time

14 (Saturday) 12:00 AM - 23 (Monday) 12:00 AM