AUSTA WA ONLINE: Technology for Musicianship and Creativity
27aug2:00 PM5:00 PMAUSTA WA ONLINE: Technology for Musicianship and Creativity
Event Details
TECHNOLOGY for Musicianship and Creativity
ONLINE EVENT
SUNDAY AUG 27 2pm WA, 4pm AEST (and available later as a recording)
Do all the new music apps available make your head spin?
Have you wanted to incorporate some technology to your studio teaching but don't know where to start?
This workshop will help you unleash the full potential of simple metronome apps, through beat makers/drum machines, and, finally, full looper pedals in your instrumental lessons.
These tools can help beginners find fun ways to internalize pulse, developing students keep interest in all those boring, repetitive scales and exercises, and advancing players to explore improvisation and composition.
Get ready to explore new dimensions in your students' potential as we delve into ways to integrate these powerful apps and devices into your teaching toolbox.
AUSTA WA is honoured to present experienced WA violinist and teacher Ruth Klein Cook in this exciting online event, which will also be available later as a recording for all who register.
TICKETS
AUSTA members $10
Non-members $25
Link to book: https://www.trybooking.com/events/landing/1098299
About Ruth Klein Cook:
American violinist Ruth Klein Cook is a charismatic and captivating presence on today's music scene. Classically trained, she comfortably embraces various genres of music from jazz to pop to folk.  Seamlessly moving between musical genres and ensembles, you can find Ruth playing solo, leading the sFOURsando Chamber Ensemble, or as a member of the Perth Symphony Orchestra, Fremantle Chamber Orchestra, and Australian Baroque.
As founding member of the Whitestone Duo, Ruth received a Chamber Music America Rural Residency Grant to live and teach in rural Kansas.  The violin/viola duo expanded into the Red River String Quartet, moved to Oklahoma and became the inaugural graduate quartet-in-residence partnering the University of Oklahoma and Oklahoma Baptist University.  Ruth performed in orchestras across the US before moving to Australia in 2011.
Committed to mentoring young players so they may find their own, unique voice, Ruth tutors privately and at the Hale School, coaches chamber music with the WA Chamber Music Program (WAYACHAMP), and is a sought after festival adjudicator.  She strongly believes that the young people today need to have opportunities in all genres of music. Ruth has served on the AUSTA WA Committee and is the immediate Past President of AUSTA WA.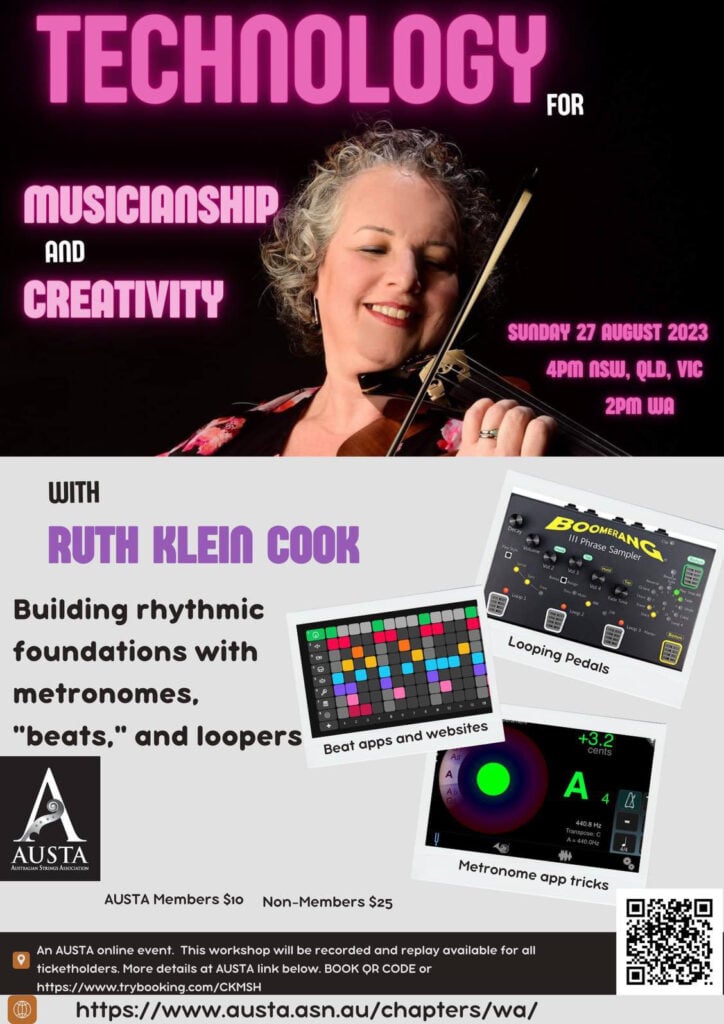 more
Time

(Sunday) 2:00 PM - 5:00 PM