AUSTA String Teacher Personal Details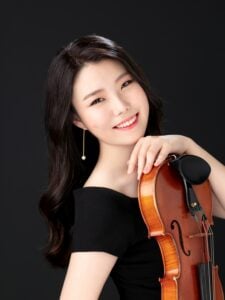 Yewon Lim
Suburb: Joondalup
Postcode: WA 6027
Email: auviolinchannel@gmail.com
Qualifications: Graduate Arts High school, Bachelor Degree of Music (Violin), WAMTA Teaching member
Levels: All Level
State: WA
Experienced Teacher and Performer
Born into a musical family, Yewon started learning the violin age 5. At age 7, she left her home in Seoul, the capital of South Korea, for Moscow; as her mother had received a piano scholarship Moscow State Tchaikovsky Conservatory.
Two years later, back in Seoul, Yewon trained under a Russian teacher who guided her through violin foundations and prepared for various Korean Competition.
Yewon then studied under Jisun Park, a prominent violinist in KCO (Korean Chamber Orchestra), culminating in being accepted to Seoul's famous Deokwon Arts High School at age 16. Although specializing in violin, Yewon's detailed exposure to multiple other instruments at this time led to a long-lasting appreciation of the richness of the full range of classical music. Her orchestra attracted guest-conductors from throughout Seoul, with subsequent concert performances at KBS (Korean Broadcasting Service). Yewon expanded her knowledge on music theory; and her skills greatly increased throughout this period. She took particular advantage of the school emphasis on sight singing and music dictation.
By this time, her passion for teaching had already been awakened, as she took on her first regular young violin students. Yewon auditioned successfully for the paid role of first violinist in church ensemble, performing weekly in Sunday services; often as soloist. Christmas cantata and Easter performances too were a major part of the ensemble commitment, allowing Yewon to further widen the breadth of styles performed.
Following high school Yewon was accepted to SSWU (Sungshin Women's University) for her Bachelor of Music (Violin) Early on, her leadership skills were developed as freshman chief violinist within senior orchestra.
During this time she also enrolled in ensemble masterclass, with specific skill development in first violinist harmonics. SSWU Orchestra were in demand at the highest level, allowing Yewon to play several concerts at the two most prestigious concert halls in Korea – Seoul Arts Center and Lotte Concert hall.
Following graduation, Yewon joined the Lyum Chamber Orchestra, debuting at Yeongsan art hall in 2018. She subsequently performed three concerts throughout Korea in each of the following three years as a fully fledged second violinist.
Yewon has been teaching children one to one around the Seoul area for over 11 years. During this time, she has taught dozens of pupils between age 5 and 16 to prepare for competitions, and complete Suzuki textbooks 1-10. Her philosophy is to establish lessons with fun and encouragement, whilst setting clear expectations and vision.
Yewon has experience with, and is also available to teach, more experienced adults too.
If you, or someone you love, are interested in learning the violin, please contact Yewon on auviolinchannel@gmail.com.