Viola, Violin Teacher, Five Dock
Victoria Jacono-Gilmovich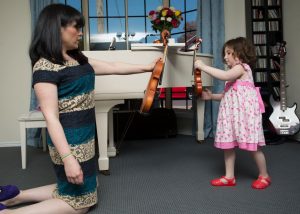 Suburb: Five Dock
Postcode: 2046
Studio Phone: 0413002757
Mobile Phone: 0413002757
Email: victoria@innerwestinstituteofmusic.com
Instrument: Viola, Violin
Qualifications: A-Mus-A , L-Mus-A , B-Mus-A
Fees: $88 per hour
State: NSW
Victoria Jacono took up the violin when she was six. Millions of notes later, it still evokes the same wonder.
Victoria's credentials — A-mus-A and L-Mus-A on violin, an A-Mus-A and L-Mus-A on viola and also a Bachelor of Music with honours, from the Australian Institute of Music — are matched by her passionate mastery of the strings that have formed the threads of her life.
Along with numerous prizes from eisteddfods and competitions all around the country, Jacono is a past winner of the National Youth Concerto competition, the Wenkart Foundation Scholarship, the Marcus Edwards Violin prize, the Perry Hart Memorial prize, the International String Player of the year award at the Gisborne International Music Competition in New Zealand, and the Order of Australia Association Scholarship.
Victoria has found musical joy working with many orchestras, performing as concert master for the SBS radio and television orchestra, the Young Symphonists orchestra, the International Youth Orchestra in Spain 2001, the Sydney Sinfonia Orchestra and Eminence Symphony Orchestra. As a member of these orchestras, she has performed in Japan, China, Hungary, Austria, the Czech Republic, Slovakia and Spain.
Back home in Sydney, she performs for several musical organisations including the Australian Institute of Music, Australian Musician's Academy, the Mostly Mozart Festival, Manly Music Club, the Ryde & Hills District Music Club, the Art Gallery of NSW concert series, the St Andrew's Young Concert Artists Series, Halcyon and Chronology Arts, as well arranging and performing her own performances.
Many of these have been recorded and broadcast on 2-MBS-FM, ABC Classic FM and Radio NZ. She regularly performs for charity, helping to raise money for the Exodus Foundation, the Oak Tree Foundation, the SADS foundation, the Malcolm Sargent Cancer Fund for Children and the Oncology Children's Foundation.
Victoria's passion for music education and teaching has led her to create the "Inner West Institute of Music" in Five Dock , a music school that aims to tailor lessons to student's needs and encourage a love of music in students for a lifetime.