AUSTA String Teacher Personal Details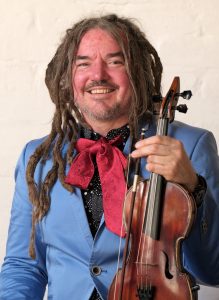 Rupert Guenther
Suburb: Wangara & Toodyay
Postcode: 6566
Mobile Phone: 0466279087
Email: tcb@rupertguenther.com
Qualifications: Bachelor of Music Performance (Violin) The Victorian College of The Arts (University of Melbourne); Certificate IV in Mentoring & Coaching.
Levels: Advanced students, Teachers, Professional Players, Soloists and Chamber Music
Fees: $132 per hour including GST
State: WA
Rupert Guenther offers Individual Lessons, Workshops, Masterclasses and Courses for advanced students, teachers, and professional players over a range of areas pertinent to developing true artistry, soloistic know-how and skills, and healthy inner wellbeing.
These include Individual Lessons in:
Violin Technique & Repertoire
Classical Music Improvisation
Healing Stage-Fright
Playing Electric for Strings
He also offers Courses in:
Teacher Training For Strings
Teacher Training For Classical Music Improvisation
Additionally he offers:
Meditation & Personal Development
Mentoring & Coaching
"This is a holistic education approach to practicing, performing and teaching music, and music improvisation. Holistic means that we are making as much focus on the journey of discovering and being comfortable with who we really are, and how to function as a bright spark of light, a spiritual being in this modern age, as much as we focus on all the wonderful journeys and compositional details which the music teaching & improvisation itself contains.
The reason for this is simple: as a soul journeying through time, if we cannot access and bring our deepest essence, experience, soul memory and intuitive ways of spiritual knowing into the music, it is not going to bring much value to the world in ways which touch people's hearts, bring hope, and help what is hurt in us and others to heal. The holistic approach includes self-work on deepening self-esteem, understanding the differences between the modalities of coaching, mentoring and teaching, and how each of these modalities has its own special place in music education and situational life." – Rupert Guenther
See details of these courses and many more on the links below.
PRIVATE LESSONS & COURSES FOR INDIVIDUALS
https://www.schoolofcreativearts.net/index.php/courses#individuals
PROFESSIONAL DEVELOPMENT COURSES FOR PLAYERS AND TEACHERS
https://www.schoolofcreativearts.net/index.php/courses#PD
TEACHER TRAINING COURSES
https://www.schoolofcreativearts.net/index.php/courses#teacher
MASTERCLASSES FOR UNIVERSITIES, CONSERVATORIUMS AND MUSIC ACADEMIES
https://www.schoolofcreativearts.net/index.php/courses#master
CREATIVE MUSIC COURSES FOR SCHOOLS, CAMPS & MUSIC SHOPS
https://www.schoolofcreativearts.net/index.php/courses#schools
MEDITATION AND PERSONAL DEVELOPMENT, MENTORING & COACHING
https://www.schoolofcreativearts.net/index.php/courses#meditate
ABOUT
Rupert Guenther is an international concert artist and composer who performs his own original works entirely through improvisation. He has toured and given recitals and live radio broadcasts worldwide for over 20 years, and has independently released over 28 CDs of his own original improvised music since 2003 including five CDs commissioned and recorded for Radio ABC Classic FM in Australia. His concerts and recitals of his original music include Melbourne International Festival (Australia), Bombora House New York City (USA), The Guildhall Festival (London), St Anna Church, Vienna (Austria), Perth Winter Arts Festival (Australia), Monsh University Churchill campus (Australia), London Docklands Museum (UK), Tate Britain London (UK) and further recitals in Italy and Austria. He also performs extensively on electric and acoustic violins in blues, rock and world music groups and has worked with many of the top session players in Australia including Chris Copping (Procul Harem), Stephen Housden (Little River Band), Garry Young (Daddy Cool), Geoff Wright (JJ Cale), Allan Zavod (Frank Zappa, Jean-Luc Ponty), and utilises contemporary playing styles and technology in solo recitals using live looping and electronics.
He has developed and taught his approaches to classical music improvisation, meditation, and healing stage-fright in hundreds of workshops and masterclasses for students of all ages in universities, schools and holiday music camps throughout Australia, the UK, Italy, and Austria for over 15 years. He wrote and founded the classical improvisation courses at the Western Australia Academy of Performing Arts (WAAPA) at Edith Cowan University and the universities of Monash, Queensland and Western Australia, and has taught masterclasses at Vienna University for The Performing Arts (MDW, Austria), the St Paul Summer Academy (Austria), and Vorarlberg State Conservatorium (Austria). He has presented at The European String Teachers Association (ESTA) international conference in Falun, Sweden, The International Society for Improvised Music (Denver USA, and Chateau d'Oex Switzerland), The Reflective Conservatoire (The Guildhall School of Music and Drama, London), as well as private sessions for some of the world's top soloists, chamber ensembles, and key players from opera and symphony orchestras in Europe including La Scala Milan, The Zurich Opera, Symphonie Orchester Vorarlberg Austria, and Singapore Symphony Orchestra.
His background as a professional violin player includes a Bachelor of Music Performance in classical violin with Brian Finlayson at The Victorian College of The Arts (Melbourne University), a further 3 years of studies in Vienna (Austria) with the renowned Professor Helfried Fister, and Masterclasses with Professor Igor Ozim throughout Australia and Europe. He has held principal positions with The Vienna Chamber Opera, Helios 18 Baroque Ensemble (Vienna), The Johann Strauss Sinfonietta (Vienna), The Australian Pops Orchestra, and played solo electric violin in Greek superstar Demis Roussos' band, recitals with Hollywood singer-songwriter Lisbeth Scott, as well as tours with pop legends Olivia Newton-John, Anthony Warlow, John Farnham and The Beatles' producer Sir George Martin.