AUSTA String Teacher Personal Details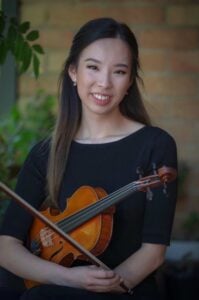 Nanda Hong
Suburb: Surry Hills
Postcode: 2000
Mobile Phone: 0416087234
Email: nandahong@y7mail.com
Qualifications: Bachelor of Music (Degree with Honours), A.Mus.A, L.Mus.A
Fees: $90 per hour
State: VIC
Nanda is a dedicated teacher with solo, chamber and orchestral experience. A graduate from the Melbourne Conservatorium of Music, Nanda has training in both solo and orchestral performance through positions held such as Concertmaster of the University of Melbourne Symphony Orchestra and tutti player of the Australian Youth Orchestra and Australian Discovery Orchestra.
She has performed solo and chamber works in masterclasses run by the Australian Chamber Orchestra (ACO) and Mimir Chamber Music Festival in Melbourne. During her university degree, Nanda participated in the Conservatorium's Concertmaster Mentorship Program for three years, focusing on the artistry of orchestral musicianship and leadership under the guidance of conductor Richard Davis and violinists Dr. Arna Morton, Sophie Rowell and Sophia Kirsanosva.
Under the tutelage of Dr. Curt Thompson and Mark Mogilevksi, she is the recipient of awards including the Alberto Zelman Violin Scholarship, Ormond Exhibitions Scholarship, Corinna D'Hage Mayer String Scholarship and E.R. Moran Bursary. Nanda also holds qualifications such as an Associate Diploma (A.Mus.A) and Licentiate Diploma (L.Mus.A) in Violin, and Associate Diploma (A.Mus.A) in Piano.
Nanda is committed to teaching with an encouraging and positive approach, while tailoring lessons to each individual learner. She wishes to guide students of all skill levels on achieving effective technique, expressive musicality, and creative interpretation. Previous students include beginners to A.Mus.A candidates.