AUSTA String Teacher Personal Details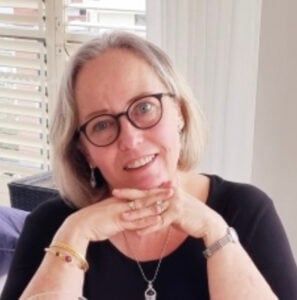 Karin Griffin (McKay)
Suburb: Ballarat East
Postcode: 3350
Studio Phone: 0417 108 817
Mobile Phone: 0417 108 817
Email: karingriffin@me.com
Instrument: Violin, Viola, Tertiary, Advanced
Qualifications: 40+ years Teaching and Performing
Levels: Beginner to Advanced tertiary and professional.
Fees: On application
State: VIC
Karin has over 40 years experience as a professional violinist and teacher. She brings to her teaching a broad depth of professional performance experience and eclectic training in most types, forms and genre of music from around the world.
She has tutored and given master classes workshops and Professional Development, adjudicated in London, Melbourne, Sydney, Perth, Geraldton and Bunbury (WA) Thailand and for AUSTA QLD in Bunderberg. She was a committee member of AUSTAQ (Australian String Association Queensland) a former president of the Australian String Association (WA), a qualified member of WA Music Teachers Association, and a former examiner for the Australian Music Examinations Board WA.
Karin has tutored students of all ages and stages and is passionate about handing on her skills providing advanced teaching and mentoring, and assisting others with their teaching practices. Many former students are now themselves tutoring and performing professionally in Australia and around the world.
She currently performs as a freelance Violinist/Fiddler and folk music performer playing live music. Karin has performed with various orchestras, bands, quartets, trios, jazz groups and duos and has also shared the stage with such greats as: Eric Clapton, Henry Mancini, Dizzy Gillespie, Larry Adler & Sinead O'Connor and worked with the Royal Philharmonic and BBC Concert Orchestras, WA Symphony Orchestra as well as performing on films such as Licence to Kill and Mad Max (1 & 2) starting her career in Melbourne with the Brian May and the ABC Melbourne Showband playing on recordings and films, TV performances on young talent time and Darrel Summers shows and leading and solo in West End Musicals from an early age.
She has recently relocated and now lives in Ballarat, Victoria where she has a private studio and performs.
She performs on a Berdenhoffer 1791 violin and Tubbs bow as a classical violinist, a 24k gold bridge dragon electric violin with effects board (blues), and a spur semi acoustic (gypsy jazz). Later this year she will be playing on a specially commissioned Spur semi acoustic 6 string violin and recording a new concerto specially composed for the instrument.
If you are interested in talking further or you wish to book an initial lessons or booking her for performing then please contact her on:
0417 108 817