Presenter Sheau-Fang Low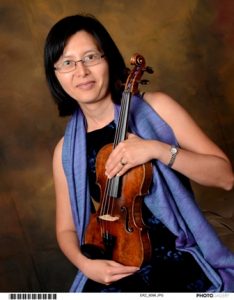 Presentation Notes
Poster: Zhang Violin Method
Sheau-Fang Low holds Bachelor and Master Degrees in Performance and Pedagogy from the Sydney Conservatorium of Music, University of Sydney; studying under Shi-Xiang Zhang, Alice Waten, Charmain Gadd and Semyon Kobets. Her influence in string pedagogy is broad and varied having studied various pedagogical approaches from notable teachers such as Janet Davies (Alexander Technique) and Géza Szilvay (Colourstrings).  She has also pursued training and obtained certifications in Dalcroze Eurhythmics and Suzuki Talent Education. Her passionate interest in violin pedagogy is reflected in the topic of her Master degree research thesis. She has given presentations on this subject in various workshops and conferences.
Sheau-Fang is currently an AMEB (NSW) string examiner and has been violin pedagogue at both public and private schools.  She has taught violin at her private studio for more than twenty years, with students ranging from pre-schoolers to university-age students. A sought after teacher for her ability to adapt her teaching to suit the various learning styles of her students; many of her students have been successful in various music performance examinations, auditions and competitions. Her two school-age string playing children have been providing her with practical feedback on child-friendly approach to home practice.
She has served as committee member for AUSTA (NSW) and the Dalcroze Australia Society. She is also one of the founding committee members of the Australian Strings Academy (ASA). She has been active in violin performance, being a long standing member with the Willoughby Symphony Orchestra.
The Power of Play: Strategies for the Studio Violin Teacher
Children intrinsically love to play, often a child's motivation to learn the violin is to play the violin; although we as teachers know that it requires commitment and time to develop the required playing skills. It can be a challenge to device playful instruction strategies that would elicit the essential elements of good violin playing to the 21stcentury children, who grow up with technology that provides instant gratification.
This session demonstrates some teaching strategies that include playful elements in coaching elementary and intermediate levels violin students. These strategies are divided into three broad categories: basic violin techniques, home practice and musicianship development. The teaching strategies are based on the author's knowledge in and application of the Zhang Violin Method, Dalcroze Eurhythmics, Colourstrings and the Suzuki method.