Presenter Loreta Fin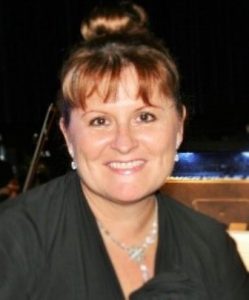 Presentation Notes
A note regarding Sessions 1.5 and 2.5


It has come to my attention that one of the papers I authored and presented at the 2018 AUSTA National String Conference in Perth and included on the AUSTA Website Resources page was flagged as problematic with regards to copyright and permission of some elements of the content. The paper indeed contained images that acknowledge the author Barbara Barber, but did not thoroughly refer to copyright, and indeed permission had not been sought from the author for the use of the images in the paper. My intention in including the images was simply to support the concepts and make delegates aware of the availability of this excellent publications by Barbara Barber – Violin Fingerboard Geography: An Intonation, Note-Reading, Theory, Shifting Systemand String Class Fingerboard Geography. I mistakenly invited teachers to copy the material in my original paper which included Barbara's images from String Class Fingerboard Geography on page 2 and Violin Fingerboard Geography on page 1I. This paper has now been revised to ensure that there is no reference to the images. I would like to apologize to Barbara Barber for this error of judgement in including the images without permission and full copyright reference. I also apologise to the national and international string communities for presenting images of another authors' work without seeking permission, regardless of the good intention.

 
Sessions 1.5 and 2.5 – VIOLIN Session will be focusing on pages 4 and 6. If time permits,  Pg 8 – teaching 3rds.
Sessions 1.5 and 2.5 – VIOLA Session, will be focusing on pages 2 and 3.
Session 2.2 Running a Successful Beginner Program
BOOK LAUNCH – Beginner String Ensemble Series
Loreta Fin studied violin at the Sydney Conservatorium and has been Director of Strings and Instrumental Music at Somerville House Girls' School, in Brisbane since 1993. Over the last 10 years, her ensembles have consistently received Platinum Awards in Qld's Music Fest competition – and the senior group, Somerville Strings, was the winner of the Orchestras of Australia Award for Excellence in school orchestral music.
In addition to her teaching commitments at Somerville House, Loreta was the State President of the Australian Strings Association (Austa) from 2001 to 2004 and was the National President from 2005 to 2007. At the 2009 AUSTA National Conference, Loreta was presented with the Qld State Award for services to the string community in that state. She has taught at the Queensland Young Conservatorium, lectured in String Pedagogy at the University of Queensland and is a String Examiner with the AMEB.  Loreta has presented pedagogy sessions at many National Music Conferences. She has also presented at two American String Teachers Association Conferences, in Albuquerque and Atlanta.
Loreta has published over 100 pieces for young string ensembles and, more recently, a series of string tutor books for young beginners. Her pieces have been selected as set works in competitions and one was performed at a combined school orchestra festival being held at the Sydney Opera House in 2017. Loreta has played violin and viola in many freelance professional productions and has been Principal Violist with the Queensland Pops Orchestra for over 20 years.
At the 2015 AUSTA National Conference, Loreta was honoured to receive the National Award, "In recognition and appreciation for outstanding service, within the string and music communities of Australia".
Running a Successful Beginner String Program
Building a strong string program in any school relies on keeping students interested. Quality comes from QUANTITY, which feeds up into the more advanced levels. If students (and parents) feel they are succeeding, they are more likely to continue. In the early stages, children measure their success by what they can DO. This is what ignites their initial passion. Loreta Fin runs a program in Brisbane, which starts with a compulsory Year 3 Beginner group of 60+ students. In this session, she will explain the setup of the program, and demonstrate with video clips, how the classroom works and what strategies are used to ensure sequential learning, aural aptitude, self-assessment and a sense of teamwork, which results in students who think like musicians and take ownership of their learning.