Presenter Donald Maurice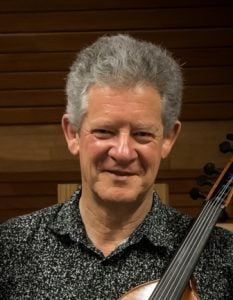 Presentation Notes
The Art of Vocal Fingering PowerPoint
Donald Maurice is Professor of Music at Victoria University in New Zealand. In 2014 he was made a Member of the New Zealand Order of Merit. He has presented at sixteen International Viola Congresses and has given premieres of many works. He has performed for diplomatic missions in Washington DC, New York, Ottawa, Berlin, Bangkok and Warsaw. The CD of his 2008 performance of Boris Pigovat's "Holocaust Requiem" has received high acclaim and he gave the German premiere of this work at the International Viola Congress in Wuerzburg in 2011.
His discography spans fifteen CDs, including Alfred Hill's seventeen string quartets for Naxos with the Dominion String Quartet. "Home is Where…" (Atoll) features first recordings of music by Lilburn, Enescu and Pigovat and he is featured with Claudine Bigelow on the Tantara label, performing Bartok's 44 Duos in their transcription for two violas. As a viola d'amorist he has performed in Asia, Australia, Europe and New Zealand and he can be heard with Archi d'Amore Zelanda on Atoll Records and as concerto soloist on Acte Prealable. A film is soon to be released, shot on location in a 12th-century monastery in Poland, featuring Donald as viola d'amore soloist in concertos by Christoph Graupner.
The Art of Vocal Fingering
A remarkable thing about string playing is the number of possible fingerings one can adopt for every note (except the lowest two) in every piece of music. Unless the composer has requested a particular fingering for a passage, it is left to our discretion to choose what is the most musical, and technically most comfortable. It is hardly surprising that there is a wide variance of preferences, given that many performers make choices based on technical comfort alone, and given that comfort is quite subjective.
Choices may be influenced by hand size, finger strength, avoidance or usage of open strings, use of familiar patterns from scale/study practice, avoidance of semitone string-crossings, aversion to higher positions on lower strings, preference for the odd-numbered positions, and unconditional acceptance of what is seen in editorial print. Options can be narrowed by the requirements of musical integrity, nevertheless, the freedom of choice can lead to remarkably different results.
This paper promotes "vocal fingering" as a highly effective interpretive tool in conveying cohesive phrase shapes, while observing some age-old principles of voicing and voice-leading. It proposes that choices should be based primarily on musical considerations, with comfort being a secondary, though not insignificant, consideration.