Presenter David Periera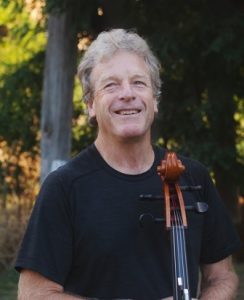 David Pereira is an Australian cellist of huge experience and achievement. His professional career now spans 45 years and he shows no signs of tiring. He says he would like to die suddenly one far-off day, new running shoes still warm… maybe walking on his hands! Recently he has returned to the ANU School of Music as Senior Lecturer, a position he first took up in 1991 after working for 11 years as cellist of the Australia Ensemble, 7 as principal in the ACO, and 3 years as principal in the SSO. He is passionate about the ANU SoM's future, one in which he plans to continue to play a key role.
His early training was at Sydney Conservatorium and then at Indiana University. It was traditional and conventional in excellent ways.
David is distinctive for his holistic approach to cello. He combines the practices of playing, teaching, composing, improvising, conducting and researching, as well as those of Yoga, Running, and Gymnastics. His musical tastes are broad, and he finds it slightly embarrassing if he is called a Classical Cellist. Cello playing is more important than any limited style of music-making, after all!
His handful of books on cello playing and on musicianship attest to his persistent efforts to increase his expertise by finding ever better methodology, skill and insight. The most recent publication – Pereira Cello Technique – presents his finest perceptions so far, in a concise literary form and with demonstration videos for each section. These and more are found at his website – www.davidpereira.com.au
Presentation on Pereira Cello Technique
David will introduce his 2017-18 Pereira Cello Technique publications – Volume 1: Postures and Movements; Volume 2: Interpretation and Expression.
Volume 1 was praised by the STRAD late 2017 for its depth and usefulness. Volume 2 will be hot-off-the-press for the AUSTA National Conference 2018.
These volumes truly are unique, even as they contain some advice for the player that is uncontroversial. The language is first-person, as often it is when a cello teacher addresses a student, and every short section has several 'teachings'. These are couched in unpretentious adult language that doesn't try to exclude children. Everything is 'practical' and demonstrable with cello, otherwise it doesn't get written in the books.
David says the obvious goal is to marry comfort with utility, and with ever-increasing cleverness. That sounds good!!!