AUSTA Playing Opportunities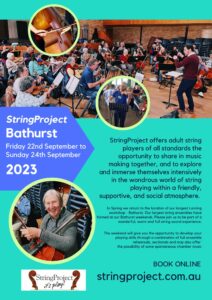 StringProject – Bathurst String Weekend
STRINGPROJECT – BATHURST WEEKEND WORKSHOP
September 22nd-24th, 2023
3pm Friday to 3pm Sunday
Scots All Saints College Music Centre
4173 O'Connell Road,Bathurst, NSW 2795
$185 (incl GST)
Closing date for entries: Friday 25th August 2023
(Note: If it is past the closing date for the workshop and you would still like to take part, please contact us and we will do our best to accommodate you!)
ABOUT STRINGPROJECT
We create, promote, and support recreational string playing and music education activities in regional communities within Australia. Our workshops offer adult string players of all standards the opportunity to share in music making together, and to explore and immerse themselves intensively in the wondrous world of string playing within a friendly, supportive, and social atmosphere.
ABOUT THE BATHURST WEEKEND WORKSHOP
In Spring we return to the location of our longest running workshop – Bathurst. Our largest string ensembles have formed at our Bathurst weekends. Please join us to be part of a wonderful, warm and full string sound experience.
As the weekend progresses take the opportunity to break into a spontaneous chamber ensembles, or continue to develop your orchestral playing skills in tutorials.
This workshop includes:
String Orchestra rehearsals
Small group tutorials and rehearsals
Concert for family and friends
Morning and Afternoon Tea
Sheet Music
In-house Violin Maker (subject to availability)
Optional extras (at participants own expense):
Workshop Dinner
Professional Massage
Name: StringProject - Bathurst String Weekend
Email: stringprojectoz@gmail.com
Phone: 0421 674 498
Website: https://www.stringproject.com.au/
State: NSW