Australian String Quartet

Australian String Quartet
Performance & Demonstration
From the Page to the Stage – bringing new Australian work to life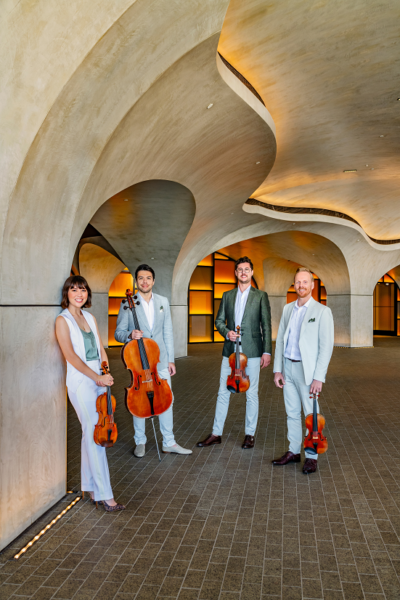 Session Time: 12.00 midday Monday 4th July
Since 1985, the Australian String Quartet (ASQ) has created unforgettable string quartet performances for audiences around the world. The ASQ is Dale Barltrop (violin), Francesca Hiew (violin), Christopher Cartlidge (viola) and Michael Dahlenburg (cello).
Dedicated to musical excellence with a distinctly Australian flavour, we aim to create chemistry and amplify intimacy through experiences that connect people with string quartet repertoire.
From our home base at the University of Adelaide's Elder Conservatorium of Music, we reach out across the globe to engage people with an outstanding program of performances, workshops, commissions and education projects.
Our distinct sound is enhanced by a matched set of 18th century Guadagnini instruments, handcrafted by Giovanni Battista Guadagnini between c.1743 and 1784 in Turin and Piacenza, Italy. These precious instruments are on loan for our exclusive use through the generosity of UKARIA.
Dale Barltrop plays a 1784 Guadagnini Violin, Turin
Francesca Hiew plays a 1748-49 Guadagnini Violin, Piacenza
Christopher Cartlidge plays a 1783 Guadagnini Viola, Turin
Michael Dahlenburg plays a c.1743 Guadagnini Violoncello, Piacenza 'Ngeringa'