How I Teach The Bass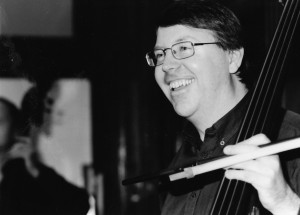 My teaching methods have changed markedly over the years, partly through experience but also from my solo work and commissioning many new works for double bass. Three of my teachers (Laurence Gray, Bronwen Naish and František Posta) have had an important influence on my approach, each bringing different perspectives to the instrument and allowing me to develop my own style from their excellent examples.
I began teaching whilst still a student at the Royal College of Music in London and have combined it with my career as a soloist, chamber musician and publisher. I quickly realised how much I enjoyed the interaction of teaching at all levels and this energy and enthusiasm have remained with me for almost 30 years.
For the past 14 years I have taught at Wells Cathedral School in Somerset, one of only four specialist music schools in England, attracting students from Britain, Denmark, Germany, Macedonia, Netherlands, Hong Kong and Malaysia. Although the school is 1,100 years old, the Specialist Music School is only 40 years old. The standard of the students is remarkably high and the school timetables over 1,500 music lessons each week alongside organising over 200 concerts each year.
The double bass class has 9 students at present and most of them have two lessons with me each week. Four of the bassists are Specialists, the highest level of musician at the school, and have two one-hour lessons alongside bass ensemble, chamber music coaching and orchestral work. There is a strong bass identity within the string department and a very supportive and proactive Head of Strings. We have commissioned many works for the bass ensemble and organised bass weekends, workshops and concerts, inviting many friends from Europe and America as guest soloists and tutors.
Each lesson is tailored for each individual student and the format changes when exams, performances or auditions are imminent. A one- hour lesson will be divided equally between technique and repertoire.
The technical section focuses on scales and a range of exercises, developed to create a strong and confident technique. These various exercises have been collected or developed over my 30 year teaching career.
TECHNIQUE
The exercises help to develop technical skills without the worry of learning a new piece at the same time, and take the students into the higher registers quite 45quickly. Most are included in my book of Daily Exercises but those I place most emphasis on are:
Chromatic Hand shape is a useful warming up exercise, but is also good for consolidating a hand shape, curved fingers, geography of the fingerboard, intonation, quality of sound/tone as well as bow placement and bow speeds.
Diatonic 4ths is based on the first four notes of a major scale, assisting accurate shifting and progressing into the higher positions. This can be adapted for minor scales and for 'sixes', also a key-based exercise which still only uses four notes but moves progressively through the scale.
For scales, I use a fingering pattern which can be varied slightly for every scale, helping to develop confidence in all positions and on all strings. It also helps students to decide why and where to play specific notes or group of notes, and opens up the entire double bass to them. I was taught to only use half and first positions for scales and then move into higher positions when one reached the G string. This meant the higher positions on the E and A strings in particular were foreign territory and best avoided! My own students have no worries about playing in any position on any string and have the confidence to try new fingering patterns for each scale.
I usually introduce thumb position at about Grade 6 (UK) level, and use hand-shapes and intervals within each hand-shape to explore the upper reaches of the fingerboard. František Cerny's Thumb Position exercises are invaluable because they move up progressively, also linking the lower positions with thumb position. Franco Petracchi's Simplified Higher Technique is also worth its weight in gold!
I really enjoy the structure of technique and scales and aim to transfer my enthusiasm to my students.
Technique is like money in the bank – it is better to have too much than not enough!
REPERTOIRE
My double bass repertoire collection now numbers over 5,000 works. I have commissioned more than 450 works for bass (from one to twenty players), published over 300 works, and aim for my students to study as wide a repertoire as possible and to experience many musical idioms and styles.
My students have premiered many works and some have had pieces dedicated to them. I try to include a happy medium between the standard repertoire and new music and am always interested to find
works which have been long-forgotten or overlooked. Setting the Grade and Diploma Syllabus for Trinity-Guildhall exams a number of times keeps me abreast of new publications. I always aim to find repertoire which will be interesting to study but also exciting to perform.
---
David is happy to answer any questions on doublebass@tiscali.co.uk or go to www.recitalmusic.net