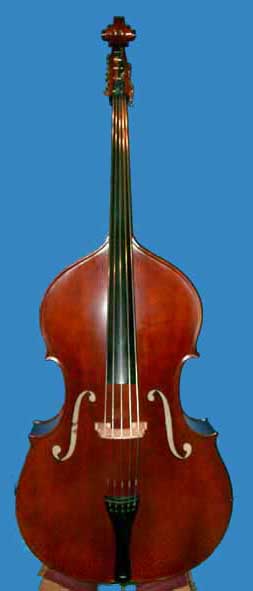 Vatiliotis Double Bass for sale
Price:
$$24,500
5 STRING DOUBLE BASS FOR SALE, A$24,500
C.A.VATILIOTIS, 1992
DESCRIPTION:
Spruce, maple and ebony construction from high quality woods with English machines and endpin. Darker red/brown over yellow varnish. Works well in the orchestra with Helicore Medium Tension Orchestral or Pirastro Original Chrome Steel strings.
Four string peg box with removable 5th machine mounted inside as a sleeve around E peg
Currently properly set up as 5 stringer using Helicore strings with B string tuned to up to C.
Body length: 115.5cm (45 1/2") – almost Full Size
Widths: top 52.7cm (21 3/4") middle 38cm (15") bottom 70cm (27 1/2")
Rib depths: top 20.7cm (8") – bottom 23cm (9")
String length: 107.7cm (42 3/8")
This is the second of six Basses hand crafted by Harry Vatiliotis since 1988. It is a big powerful orchestral instrument that was happily played in the Sydney Symphony Orchestra since new. Designed as a 5 stringer it can also easily convert to a magnificent four stringer by removing the 5th machine and replacing the bridge, nut and tailpiece. All the bits and pieces required have been kept and will come with the bass.
Phone:
0401 321 396
Email:
bass_teacher@yahoo.com.au
Location:
Surry Hills 2010 NSW