AUSTA Patron: Robin Wilson
Robin Wilson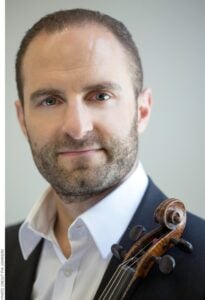 Internationally regarded pedagogue, Dr Robin Wilson is Resident Faculty of Violin at the Australian National Academy of Music in Melbourne. Previously, he held appointments as Lecturer in Violin and Pedagogy at the University of Sydney and the Australian Institute of Music, and String Pedagogy Fellow at the University of Queensland. He serves on the faculty of the Keshet Eilon International String Mastercourse in Israel, Valdres Festival in Norway and Morningside Music Bridge at The New England Conservatory in Boston. His students are regular prize-winners of all of the major national Australian competitions and many international competitions, including first prize (2018) and second prize (2021) in the Yehudi Menuhin International Violin Competition. They hold professional positions and regularly perform as soloists with the major Australian Orchestras and play in orchestras around the world such as the Berlin Philharmonic, Bavarian Opera, Leipzig Gewandhaus, Nationaltheater Orchestra Mannheim and London Philharmonic.
Robin has given solo recitals and been broadcast on ABC Classic FM, and the entire MBS FM network throughout Australia and Classic FM in NZ. His solo discography includes two discs of violin encores released by Universal Music on Decca and the complete Schubert Sonatas for violin and piano with pianist Kemp English on Ode Records. As a member of the acclaimed historical performance ensemble Ironwood, he regularly tours nationally and internationally, performing at major venues and festivals throughout Australia, USA and the UK and has recorded for ABC Classics, Vexations840 and VDE-Gallo. Robin is the former Leader of the ARCO Chamber Orchestra, member of the Australian Octet and has appeared as guest violinist with leading Australian ensembles such as the Sydney Omega Ensemble, Ensemble Liaison, Australia Quartet and Nexus 2MBSFM Virtuosi, and played for several years with the Sydney Symphony Orchestra, Australian Opera and Ballet Orchestra, Orchestra of the Antipodes and Pinchgut Opera.
Holding a PhD from the University of Sydney on the historically informed performance of music by Brahms, Robin's research was awarded the prestigious international 2014 Karl Geiringer Prize from the American Brahms Society. He has lectured and performed at numerous major international conferences and universities such as Yale University, Stanford University, City University of New York, Eastman School of Music, Leeds University, Royal College of Music London, and the Royal Northern College of Music Manchester, as well as being selected to represent the Sydney Conservatorium of Music at the DDCA Australasian Symposium 'The Outstanding Field'. As a pedagogue, he is regularly invited to give masterclasses throughout Australasia, USA, UK and Singapore. A regular tutor for AYO chamber players, he has presented at national pedagogy conferences, AUSTA conferences and for several years designed and taught undergraduate and postgraduate pedagogy curriculum at several universities and delivered professional pedagogy courses in Sydney. He has participated twice in the Delay Starling Symposium at the Julliard School in New York and spent considerable time at the Yehudi Menuhin School in England observing renowned teacher Natasha Boyarsky.
Robin holds Bachelor and Masters Degrees in Performance and Pedagogy studying with Alice Waten, and worked with Janet Davies in Sydney. Robin also studied with James Buswell at The New England Conservatory of Music in Boston, Beryl Kimber at the Elder Conservatorium in Adelaide, Pamela Dowsett and Jan Tawroszewicz in New Zealand and Felix Andrievsky and David Takeno in London.
Robin plays a Gagliano workshop violin, Naples, 1784.
AUSTA is very honoured to welcome Robin as a new AUSTA Patron.