AUSTA Performance Artists Register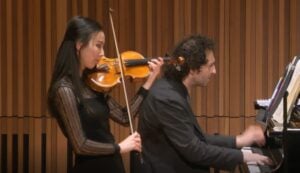 Nanda Hong
A graduate from the Melbourne Conservatorium of Music, Nanda has training in both solo and orchestral performance through positions held such as Concertmaster of the University of Melbourne Symphony Orchestra and tutti player of the Australian Youth Orchestra and Australian Discovery Orchestra. She has performed solo and chamber works in masterclasses by the Australian Chamber Orchestra (ACO) and Mimir Chamber Music Festival in Melbourne. During her university degree, Nanda participated in the Conservatorium's Concertmaster Mentorship Program for three years, focusing on the artistry of orchestral musicianship and leadership under the guidance of conductor Richard Davis and violinists Dr. Arna Morton, Sophie Rowell and Sophia Kirsanosva.
Under the tutelage of Dr. Curt Thompson and Mark Mogilevksi, she is the recipient of awards including the Alberto Zelman Violin Scholarship, Ormond Exhibitions Scholarship, Corinna D'Hage Mayer String Scholarship and E.R. Moran Bursary. Nanda also holds qualifications such as an Associate Diploma (A.Mus.A) and Licentiate Diploma (L.Mus.A) in Violin, and Associate Diploma (A.Mus.A) in Piano.
Performance repetoire includes Wedding pieces, Classical works, Folk music and Pop tunes.
Phone: 0416087234
Email: nandahong@y7mail.com
State: VIC