AUSTA Performance Artists Register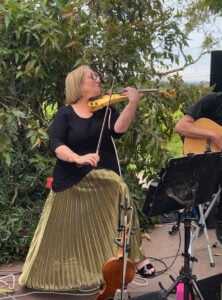 Karin Griffin
Violinist Specialist in Blues, Jazz, Gypsy Jazz, Improvising & Reading (including chord charts) in eclectic range and styles
Experienced session musician, Solo, band, orchestral, & musicals
UK & Australia
Karin Griffin has extensive skills and experience playing with some of the worlds leading musicians, and as a highly sought after and experienced session musician is able to not only read "the dots" but charts and improvise across a wide range of styles.
She has worked with Bands, Orchestras, Jazz Groups and on Films and TV both as a session player, leader and soloist.
She currently plays on:
Concert Violin: 1791 Bernhard Viedenhoffer concert violin
Electric Violin: Bridge Dragon 24k gold electric violin (with or without EFX board)
Semi Acoustic Violin: Spur 4 string
Chin Cello/Octave Violin
and soon a specially commissioned 6 string Spur semi acoustic violin
EFX Pedals: Wah, Fuzz, Qtron, Pog 2, Chorus, Tape loop, Flanger, Ecco, Pitch Fork, Blue Sky etc
Karin has multi faceted skills reading & sight reading both written music & chord charts or improvising in most musical styles specialising in Jazz, Blues, Gypsy Jazz and Rock
She loves collaborating and working with contemporary composers and song writers and is currently woking on two films, AC/DC Memorial Concert as soloist and a young singer song writer.
Phone: 0417108817
Email: karingriffin@me.com
Website: www.casablancasounds.com.au
State: VIC