Presenter Gaby Gunders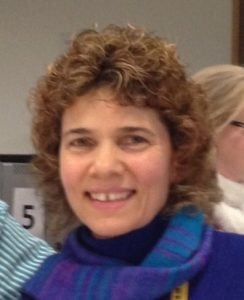 Gaby Gunders was born in Jerusalem and started studying the piano at the age of six with Professor Sonia Valin of the Rubin Academy. She graduated with a Bachelor of Music (Hon) degree in Piano Performance in South Africa, electing to explore many collaborative opportunities during her studies. Post graduation, Gaby specialised in collaborative piano playing, and enjoyed a thriving career as a collaborative pianist, chamber musician and corépétiteur in three continents over the next twenty years. Gaby has a successful piano teaching studio in Perth, is an AMEB examiner in Western Australia, accompanies extensively and adjudicates in local competitions. She has recently completed her MMus degree in collaborative piano, and has recently started her doctoral work at UWA. Beyond her musical pursuits and enjoying her lively family life, Gaby volunteers with Lifeline and travels on  scuba diving expeditions.
Coping with Accompanists: Keys to Successful Collaborations 
String and Piano collaborations can often be among the most musically satisfying, for performers and audiences alike. Yet, we have all experienced collaborations where the experience was far from satisfying for either strings players, strings teachers, students or pianists. Such engagements can culminate in strained relations or in mutual blacklisting. Certainly, it is the music which often suffers in such cases, and often, the audiences can feel the tension.
In this session, views of string teachers and players, as well as of pianists will be discussed regarding their collaborative experiences both pleasant and unpleasant. Further, we will uncover some of the reasons for collaborations becoming less harmonious. Finally, keys to successful cooperation will be suggested, so that from the initial booking and until the last note is played, all collaborating musicians are satisfied, and the ensemble has merged to become one inside the music.