AUSTA String Teacher Personal Details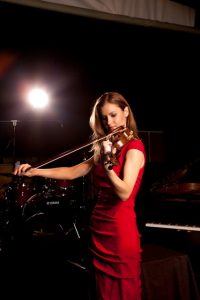 Khalida De Ridder
Suburb: Kingston
Postcode: 7050
Studio Phone: 0477009986
Email: contactkhalida@gmail.com
Instrument: Violin
Qualifications: MMus, GradDip, BMus
Levels: Advanced
Fees: $35: 30min, $50: 45min, $70: 60min
State: TAS
A doctoral candidate at the University of Tasmania, Khalida studied at the Royal Danish Academy of Music (Copenhagen) and Australian insitute of Music (Sydney). Khalida has performed solo recitals in the Netherlands and Denmark and freelances as an orchestral musician having performed with Arhus Symphony Orchestra, Copenhagen Philharmonic and the Tasmanian Symphony Orchestra.
In 2018 she took residency in Paris learning with the leader of Ysaye Quartet, Guillaume Sutre.
Khalida has trained as a Suzuki Teacher and attended teacher training in Matsumoto.