Robert Pikler Remembered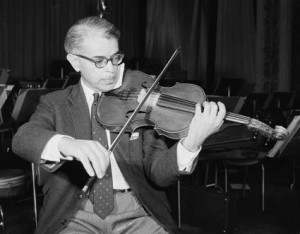 I was fortunate to be a student at the NSW Conservatorium of Music in the mid 1960s when the Sydney String Quartet was formed .Robert Pikler had just resigned from his position as Principal Viola in the Sydney Symphony to play viola in this new group, and he became Senior Lecturer of Violin and Viola and conductor of the Senior Students' Orchestra at the Con. So began the chance for a generation of young players to be taught and mentored by one of Australia's most distinguished musicians.
As Rohan Smith, a fellow-student observed, "Robert Pikler was the overwhelming formative musical and human influence of our lives." (see his tribute on page 10).
Anne-Louise Comerford, my colleague in the Sydney Symphony, and one of Mr Pikler's last students, recalls going on two tours to South East Asia with the Conservatorium Chamber Orchestra which he conducted. Many of his students went on to careers as conductors, concertmasters, orchestral musicians, chamber musicians and music educators in Australia and internationally. She reflects that he imparted a love of music, and even when he demanded students to "do it my way!" his kind and generous personality came through. He would demonstrate his beautiful sound for the student to copy.
The Canberra-based violinist and teacher Gillian Bailey came to one of my lessons to rehearse a Mozart Duo to play at Music Camp. This taste of what Mr. Pikler had to offer led to an amazing learning experience as she went on to study with him for four years. I asked Gillian what she had learnt. "Most of the time we concentrated on the bow arm, shifting and vibrato, using the whole bow and clinging, playing into the string and trying to make a bigger sound which never seemed to be loud enough for him. His shifting ideas stay with me to this day and I try to impart his idea of feeling the positions (in the palm of the hand) to all my students. His fingering ideas were a revelation and I learned to' brave' 2nd and 4th positions!" Always fascinated by how he managed all technical skills so easily, Gillian would 'pick' his brains and he would say 'Oh, you want to learn how to do that? OK', and off we would go". She remembers him as a quiet, gentle man who had suffered a great deal but was very giving and not bitter.
Gillian Catlow spent 20 years playing in European orchestras and is now a freelance violinist in WA. She recalls her first encounter with Mr Pikler at the May Music Camp at Sydney in 1968. "I was 13, and the youngest player. I instantly fell in love with him and Schubert's Unfinished and on the last day, screwed up my courage and asked if I could play for him. He listened to me, and said, 'I think you'd better come to me.' So I did". Gillian was determined to make the violin her life; she just wanted to practice all the time. She remembers working on expressive tone colours and rubatos in the Bartók Rumanian Dances and her music is still marked in the red felt pen that he habitually used. She recalls the day there was a knock on his studio door, and a young Cho-liang Lin arrived with his father and uncle from Taiwan to commence lessons with Mr Pikler. With a big smile he said, "Just call me Jimmy". The transformation of his talent in the next months was phenomenal. A highlight for Gillian was the chance to play the Leclair and Bartók duos with Jimmy for a Young Australia broadcast.
Elizabeth Holowell is currently Senior Lecturer in violin at the University of Auckland NZ, and was one of his youngest students at 11 years old. Mr Pikler firmly believed that technique must be built by the magical age of 16. Initially she worked through all the Bloch books of scales, double stop exercises and studies, and every single Kreutzer study. At the Conservatorium High School he would appear at her classroom door when he had a spare hour or two and with the blessing of the headmistress Betsy Brown, would take her out of class for extra practice. Elizabeth is very aware of the rich musical heritage she gained through Robert Pikler; as a boy he had studied violin in Budapest with Eugene Ormandy and Jenö Hubay, and at age 16 studied with Jacques Thibaud in Paris. Pikler became a well known soloist in Europe and undertook concert tours in India and Indonesia before WW2.
Perhaps the violinist Antoni Bonetti, conductor of the Brisbane Symphony Orchestra sums up Pikler's contribution to Australian musical life when he says, "Robert was a musician's musician, instinctively and intuitively knowing how to shape a phrase, colour a passage and 'bend' a bar. Technique was not an issue; he was a natural. There was nothing he could not play. Students were taught how to play expressively and were encouraged to paint their music making with their own feelings and emotions".
Mr Pikler's viola was made for him in 1952 by the Australian luthier A.E.Smith, and I have been privileged to own and play it for the past 16 years.
Robert Pikler can be heard playing the Alfred Hill Viola Concerto with the SSO conducted by Sir Bernard Heinze on YouTube.
I am grateful to the musicians mentioned above for their insights and recollections. R.B.
---
Robyn Brookfield plays viola in the Sydney Symphony and teaches violin and viola from beginner to diploma level.
She is a regular viola mentor with the SSO Education Program and with Playerlink which gives orchestral opportunities to school children in regional NSW.