AUSTA Playing Opportunities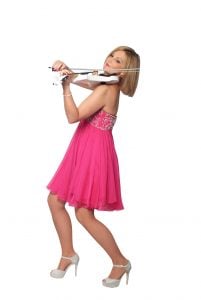 Suzie G
Suzie G, one of Australia's top violinists has wowed audiences all over the globe… combining classical training, beauty, and musical flare.
Suzie G is the musical/artistic director of  "Maske Electric String Trio", and all female group that has travelled to 17 counties and performs it's own special blend of classical/pop music.
Suzie began learning violin at age 5, piano at age 7 and won scholarships in music to the prestigious Perth Modern High School in Perth and Brisbane State High. Her qualifications include a Post Graduate certificate in Viola from the Hong Kong Academy of Music, a Bachelor of Music from the QLD Conservatorium of Music and an A.MUS.A majoring in Violin.
International artists she has performed with include, Il Divo, Don Felder from the Eagles, Nigel Kennedy, Alan Tam (Hong Kong canto pop star), Dianne Warwick, Cliff Richard, Kenny G, The Neil Diamond Tribute Show, Rod Stewart and Jerry Lewis. She has personally played for megastars Richard Branson and Madeline Albright to name a few.
She has cruised the world with her one woman "Aussie String Diva" show and performed at numerous corporate and gala events.
Suzie G has now launched her "The Suzie G" School of Music and Performance in Brisbane specialising in lessons on violin, viola and cello. As well as beginner piano and music theory the school focuses on performance techniques for stage, auditions, exams and competitions. Workshops and masterclasses on electric violin, holiday programs for beginner, intermediate and advanced string players focusing on technique and stage craft.
Contact Suzie today about starting your musical journey or enhancing it.
Name: Suzie G
Email: suziegmusic@gmail.com
Phone: 414676357
Website: www.suzieg.com
State: QLD