Keynote Presenters
There will be two keynote presenters at the AUSTA 2018 National Conference:
Brian Finlayson
Dr. Mark Laycock
---
Brian Finlayson
Melbourne-born violinist Brian Finlayson studied in Melbourne with Brian Blake and Dorothy Gleadall.  He undertook further studies with Valery Klimov (a student of and successor to David Oistrach) followed by studies in Cologne from 1980 to 1983 with Igor Ozim, the Amadeus Quartet and Günter Kerr, performing concerts and touring throughout USA, Canada, France and Germany as a soloist and member of the Heidelberger Kammerorchester.
Returning to Australia in 1983, he was appointed concertmaster of the Australian Philharmonic and the Australian Pops Orchestra.
From 1983-1990 Brian was a principal teacher of violin and viola at the Victorian College of the Arts and taught at the Melbourne State College and Victorian Education Department.  During this time he founded two youth Chamber Orchestras, the Australian String Ensemble and the Junior Strings of Melbourne, who gave successful tours throughout Japan, Europe and Australia. In 1989 Brian was awarded the Advance Australia Award for achievement in Music in Australia.
On return to Europe in 1990, Brian took up a tenured teaching position as Professor of Violin, Viola, Chamber music and Chamber Orchestra at the Carinthian State Conservatorium in Klagenfurt, Austria. In 2008 he was appointed Head of Strings and currently directs the department with 12 teachers and 300 students.
In 1990 he formed the Conservatorium-based Ensemble Kammerakademie which has performed throughout Italy, Austria, Slovenia and Germany
In 1991 he formed the professional Orchestra Academia Ars Musicae Chamber orchestra comprising principal players from orchestras in the Alpe-Adria area (Italy, Austria and Slovenia). The orchestra has toured extensively and is one which Brian directs from the concertmaster chair.
Brian collaborated in Cologne, Jerusalem and New York with Isaac Stern, the Julliard and Emerson Quartet's, Leon Fleischer and others at Sterns' Encounter chamber music courses in 1999, 2000 and 2001.
In 2012 he received the Carinthian Cultural prize for achievements in music in Austria.
Brian has performed solo concerts in Portugal, USA, Austria, Italy and Slovenia.
He has taught all over the world, including the USA, throughout Europe, and recently back in Australia. He sits on National and International violin and chamber music juries.
Brian's students have won many National and International violin and quartet competitions including the Alpe Adria International violin competition, International Instrumental competition of Padua, Italy, the Austrian National violin competition, the prestigious Gradus ad Parnasum, Mozart Prize and Austrian Artist of the year, the ABC young performers award and the Szymanowski violin competition.
His students hold orchestral positions across Europe, USA and Australia including as concertmaster of the Slovene TV Symphony Orchester, Slovene Opera, Porto State Orchestra in Portugal as well as holding positions with the WDR Orchester Köln, Münchener Philharmoniker, Berliner Philharmoniker, Kommische Oper Berlin, Cleveland Orchestra, Slovene Philharmonic, Slovene Radio, Melbourne Symphony Orchestra and others.
A number of students are professional members of internationally-renowned string quartets including the Acies Quartet, Adamas Quartet and Fegus Quartet, and others hold tenured teaching positions at the Carinthian State Conservatorium and Graz Conservatorium in Austria, the Porto Conservatorium in Portugal, as well as music schools across Europe, in Thailand and Australia.
---
Dr. Mark Laycock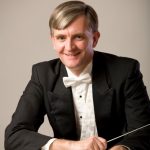 Dr. Mark Laycock is a Professor of Music at Wichita State University, where he holds the Ann Walenta Faculty of Distinction Endowed Professorship.
He has been recognized with the WSU Excellence in Creative Activity Award (2012) and the College of Fine Arts Excellence in Teaching Award (2007).
He serves as Director of Orchestras and Coordinator of Strings. WSU Symphony Orchestra appearances under his direction include international tours to Spain and Canada, a May 2011 concert at Carnegie Hall, and multiple invited performances at Kansas Music Educators Association In-Service Workshops.
Dr. Laycock is a member of the Board of Directors of the Midwest International Band and Orchestra Clinic; he serves as Chair of Orchestra Activities. He was recently appointed Conductor of the Wichita Youth Symphony. His work as guest conductor, clinician, and adjudicator spans 27 states; upcoming engagements encompass Arizona, California, Georgia, Missouri, and Texas. He has conducted all-state, region, and district orchestras throughout the country. He has served the National Orchestra Festival as adjudicator and clinician, and in 2018 will begin a two-year term as chair of the event.
His appearances with professional ensembles include the Wichita Symphony Orchestra, Wichita Grand Opera, and Opera Kansas, as well as orchestras in Slovakia and Canada.
Dr. Laycock has presented clinic sessions for numerous state education conferences, as well as the American String Teachers Association National Conference, the Northwest and Northeast Division Conventions of the National Association for Music Education, and the Midwest Clinic.
In May 2016, he presented professional development sessions for instrumental music educators in Brisbane, Australia; he returned in September to conduct the Sir Charles Mackerras String Orchestra of the Queensland State Honours Ensemble Program.
From 2013-2015, Dr. Laycock was an invited music education panelist for the National Endowment for the Arts, evaluating grant applications from institutions throughout the country. He served as Director of Orchestras and Instrumental Music at Chapman University in Orange, California, where he led invited performances for the California Music Educators Association and at Disneyland. He was also Principal Conductor of the Irvine (CA) Classical Players, leading the youth orchestra on concert tours to Italy (2006) and France (2008).
From 1998-2003, Dr. Laycock served as Director of Orchestral Activities at Iowa State University and was Music Director of the Central Iowa Symphony. Under his leadership, the ISU Symphony Orchestra performed at the North Central Division Convention of the Music Educators National Association and collaborated with such artists as bass-baritone Simon Estes and pianist-composer Marvin Hamlisch. He earned a Doctor of Arts degree in orchestral conducting from the University of Northern Colorado.
Dr. Laycock holds a Master of Music degree in instrumental conducting from the University of Nebraska-Lincoln and a Bachelor of Arts degree in music history and literature from the University of Southern California. An experienced educator, he was an instructor of strings and orchestra at the middle and high school levels in the Clark County School District in Las Vegas, Nevada.